Artefacts - Memorabilia
The purpose of this page is to provide a source of memorabilia of items (both pictures and other items) relating to the general history of the Division and those who served in it. It will change as and when items are available to be added to it. Please be patient as one or two pictures may take a little while to load.
First Issue of the Tunis Telegraph, 10th May 1943
(It may also take a little while to load)
The original is an A3 document, which has seen better days. When time allows I will endeavour to provide a better copy for this site.
Front Page:
Note:
The little
X (above) was added by my father as it refers to his regiment, 5th RHA.
Back Page:
Two Type Cartoon from the desert years.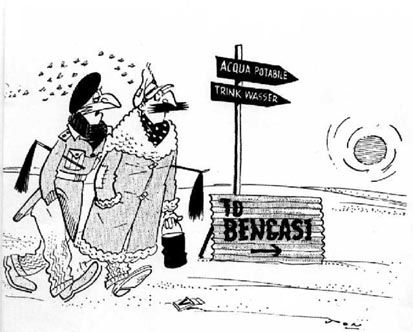 "The bint from the Sweet Melody promised she would write"
The cartoons of Jon's Two types came to typify the desert army, with their eccentric dress code. The suede boots, corduroy trousers, silk scarves, sheepskin coats and many other variations, all did have a practical side! While the sheepskin coats kept out the bitter cold of a desert night, the scarves would help protect against sand storms. Much could easily be obtained in the shops and bazaars of Cairo, or from the battlefield itself as the Italian's discarded much as they retreated at various times. Even after leaving the sand and heat of the desert, and the rain of Italy, the Desert Rats still retained their 'unique' dress sense and did not always stick to the regulation King's uniform!

NB. Incidentally the word 'Bint' probably entered the British language through the Army as it is from the Arabic for Daughter.
Two Type Cartoon from the Italy.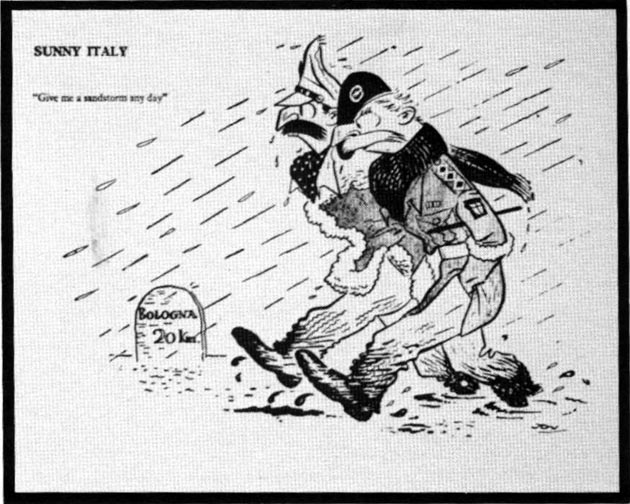 Two Types get de-mobilised.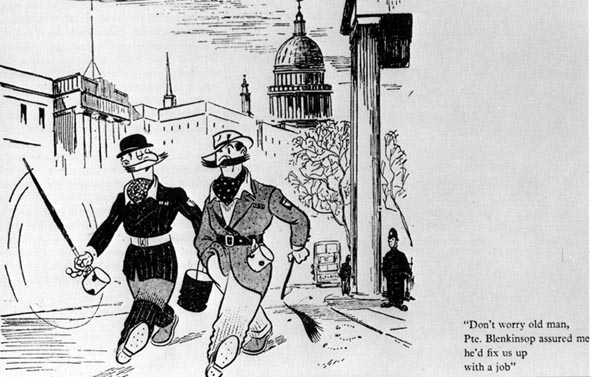 Memorial in the Chapel at the Staff College, Royal Military Academy Sandhurst to Major-General John 'Jock' Campbell,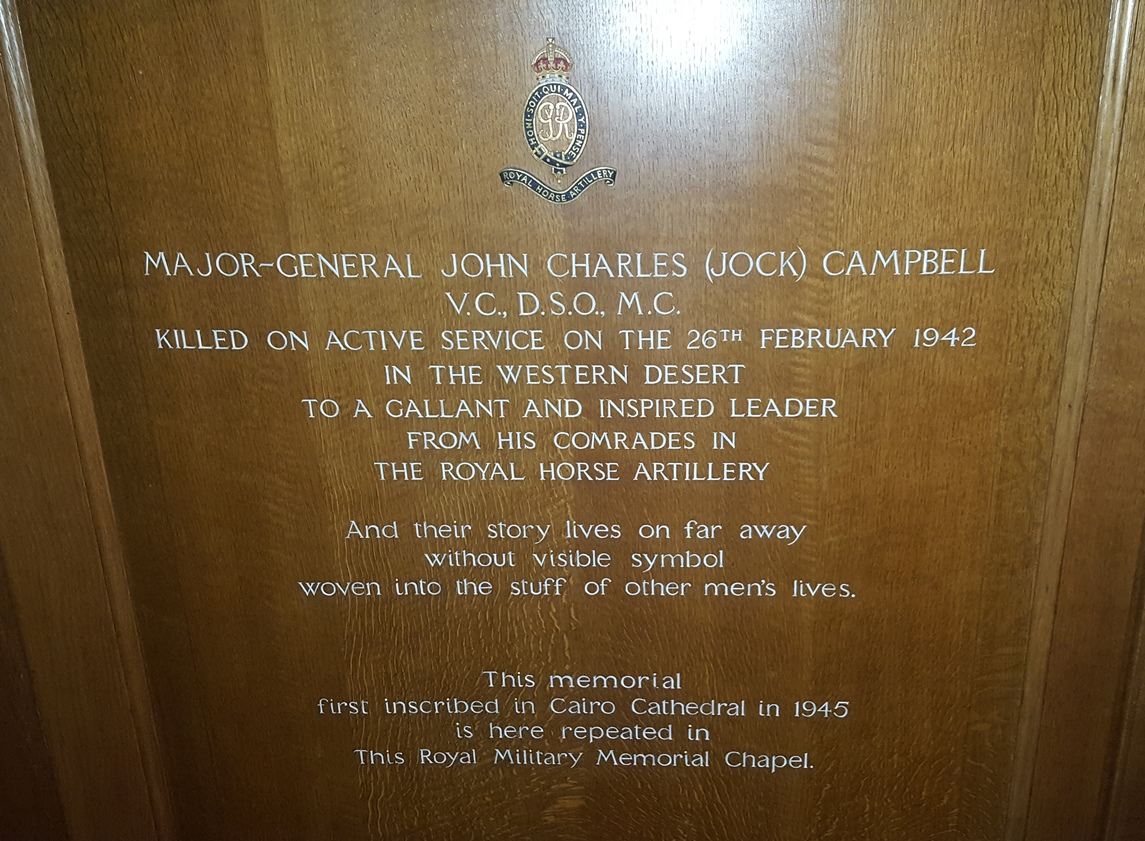 Letters to the 8th Army from General Montgomery, during the North African Campaign 1942 to 1943
(Please click on the pictures to expand it to read it better).
Letter to the 8th Army from General Montgomery, October 1943
(Please click on the picture to expand it to read it better)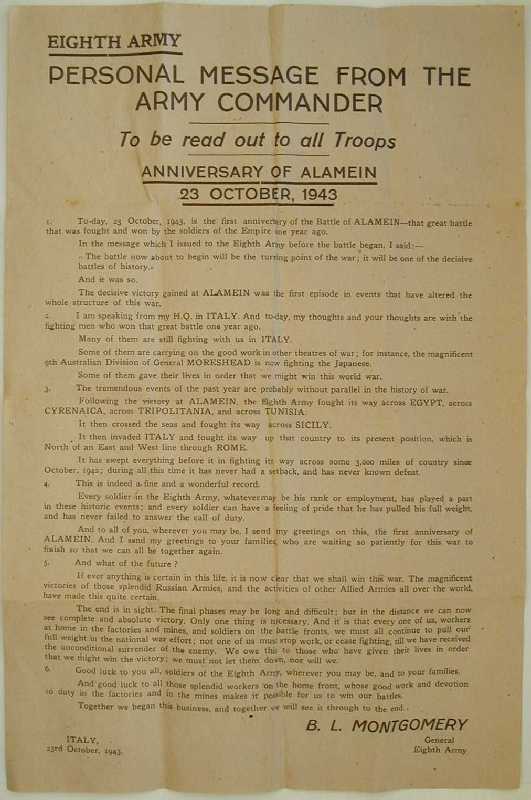 Messages from Montgomery and Eisenhower about the Normandy Landings.
All three pictures below are all courtesy of the Manx Aviation & Military Museum/Museum of the Manx Regiment. (Please click on them for larger versions)
Letter from Commander of 30 Corps, during the Normandy Campaign.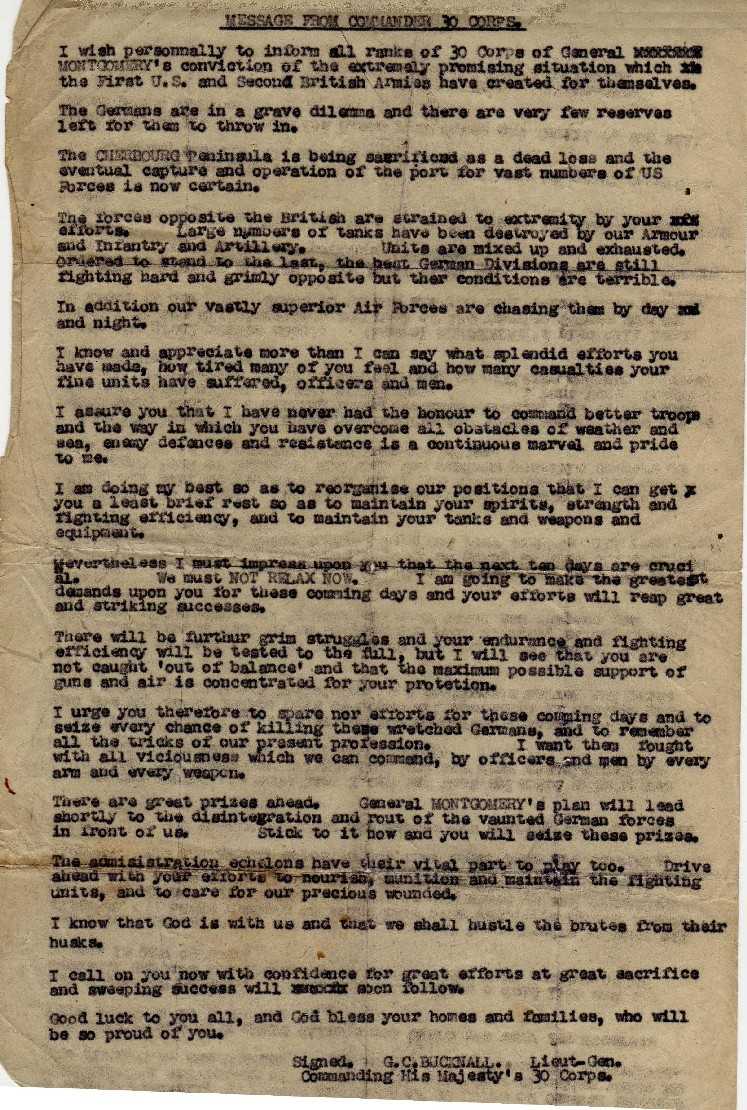 European and Desert shoulder flashes
Plaque and Letter from the Town and Citizens of Ghent in thanks for its liberation
Homemade Christmas Card for 1944, made by Patrick Samuel Yates, courtesy of his daughter Jan Fergin.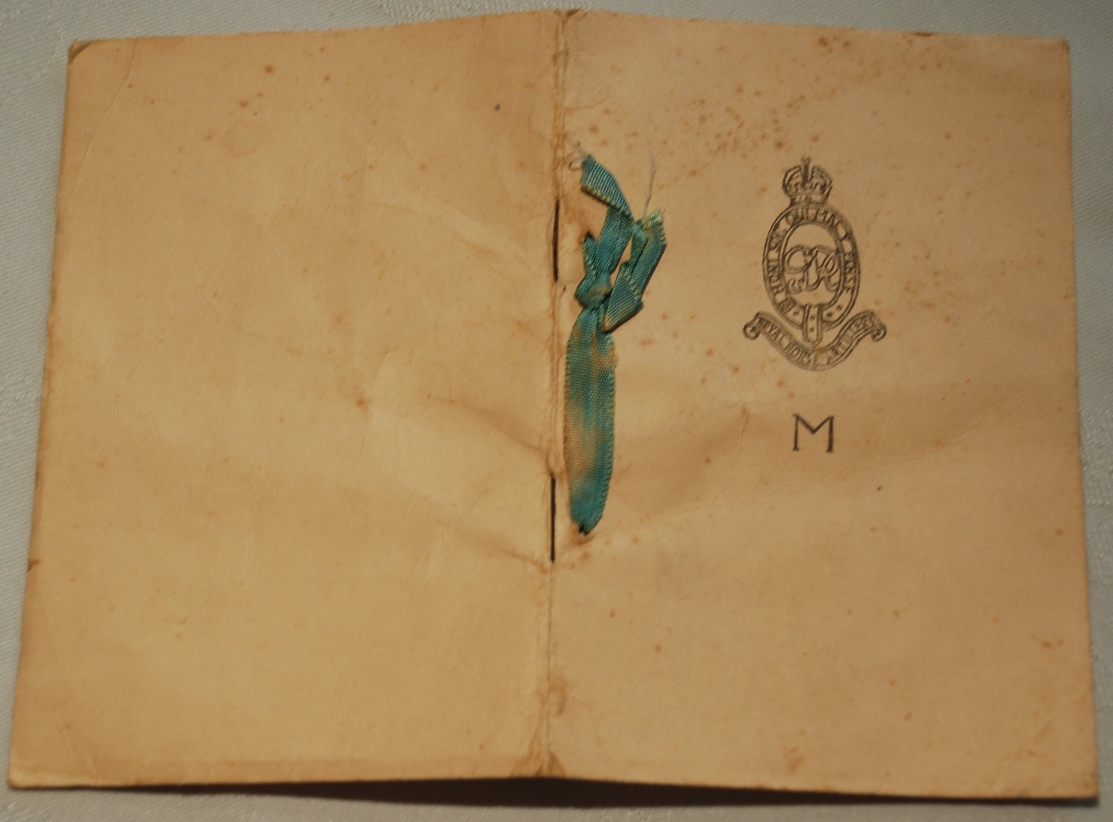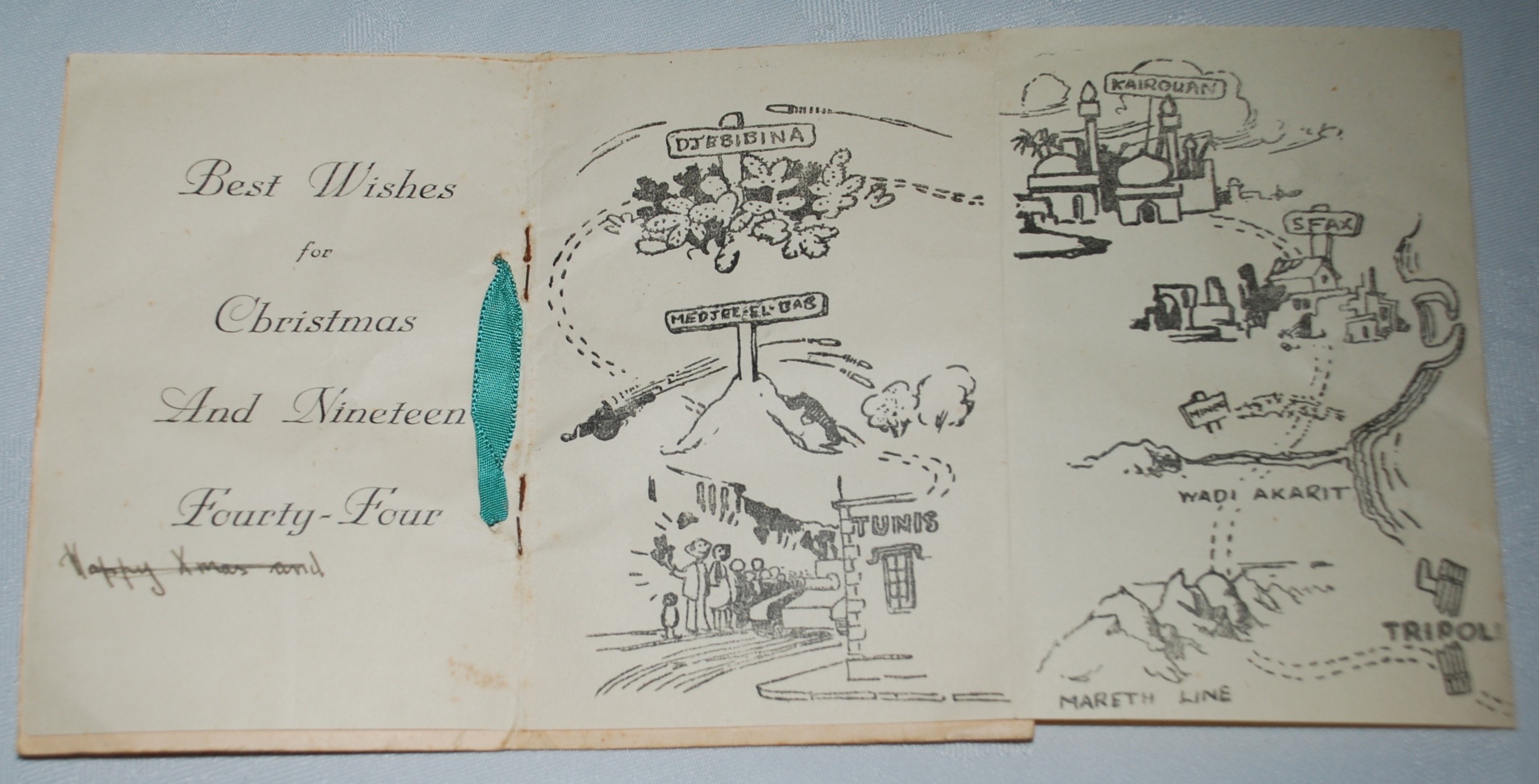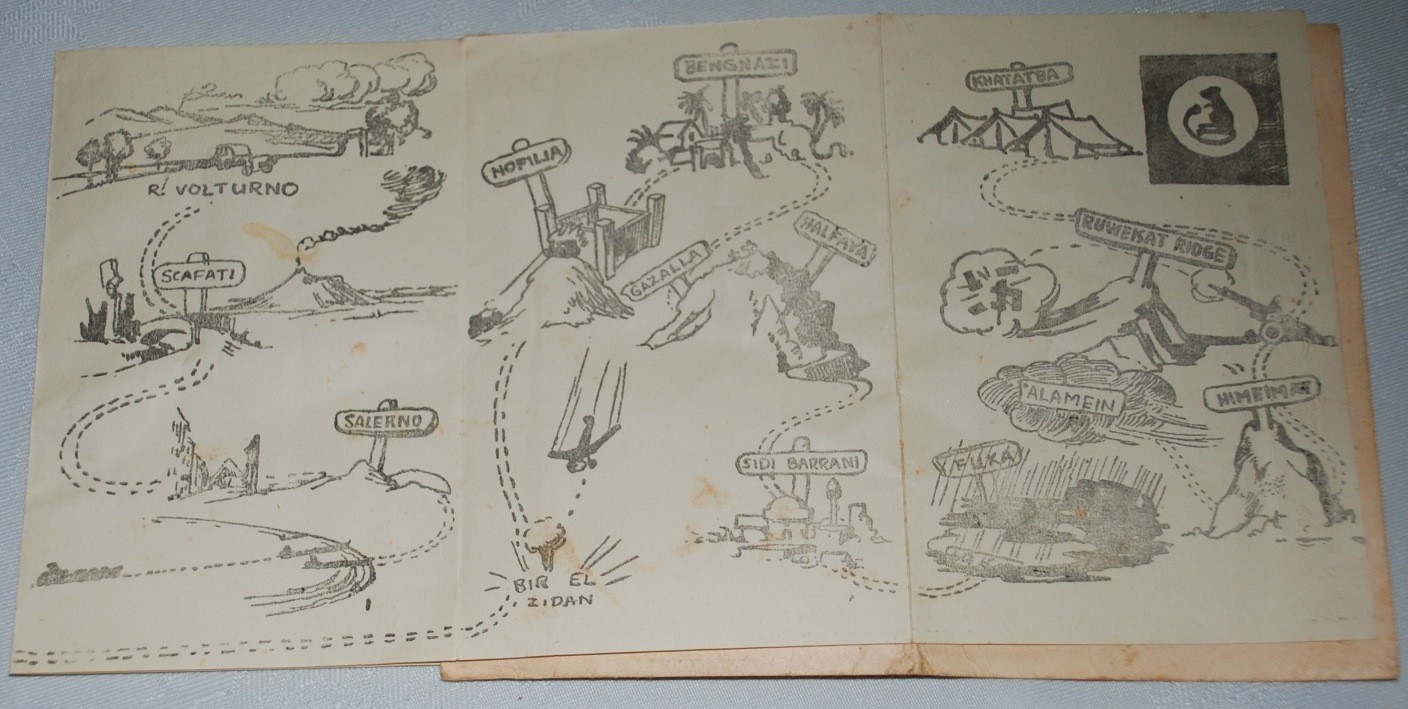 Divisional Christmas Card 1944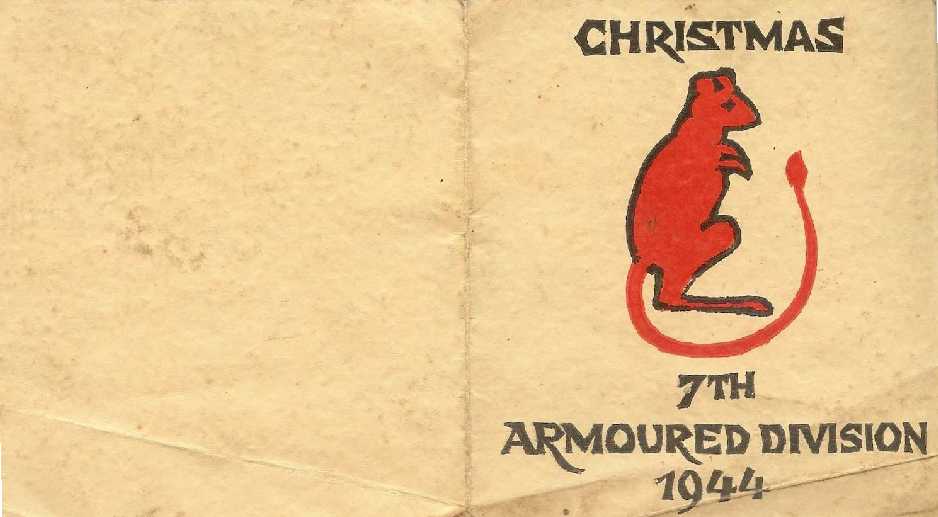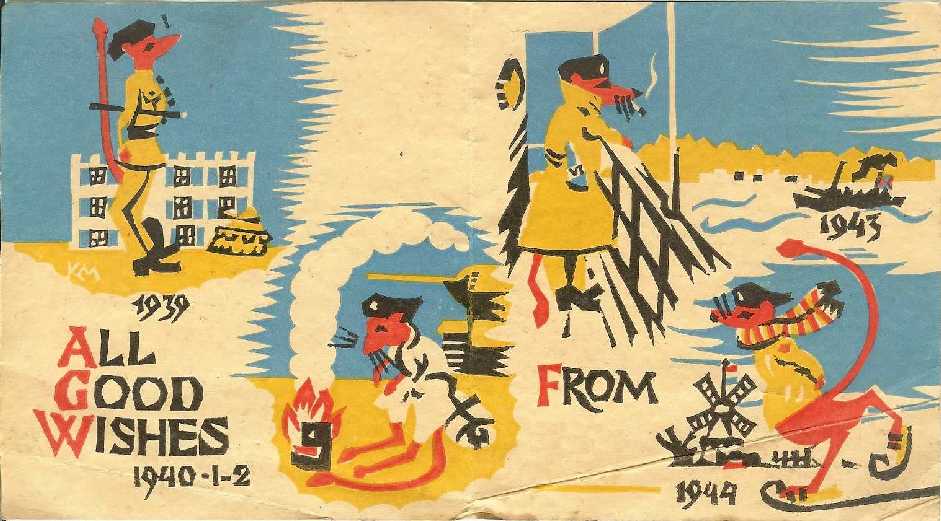 CC Battery, 5 RHA Christmas Card 1944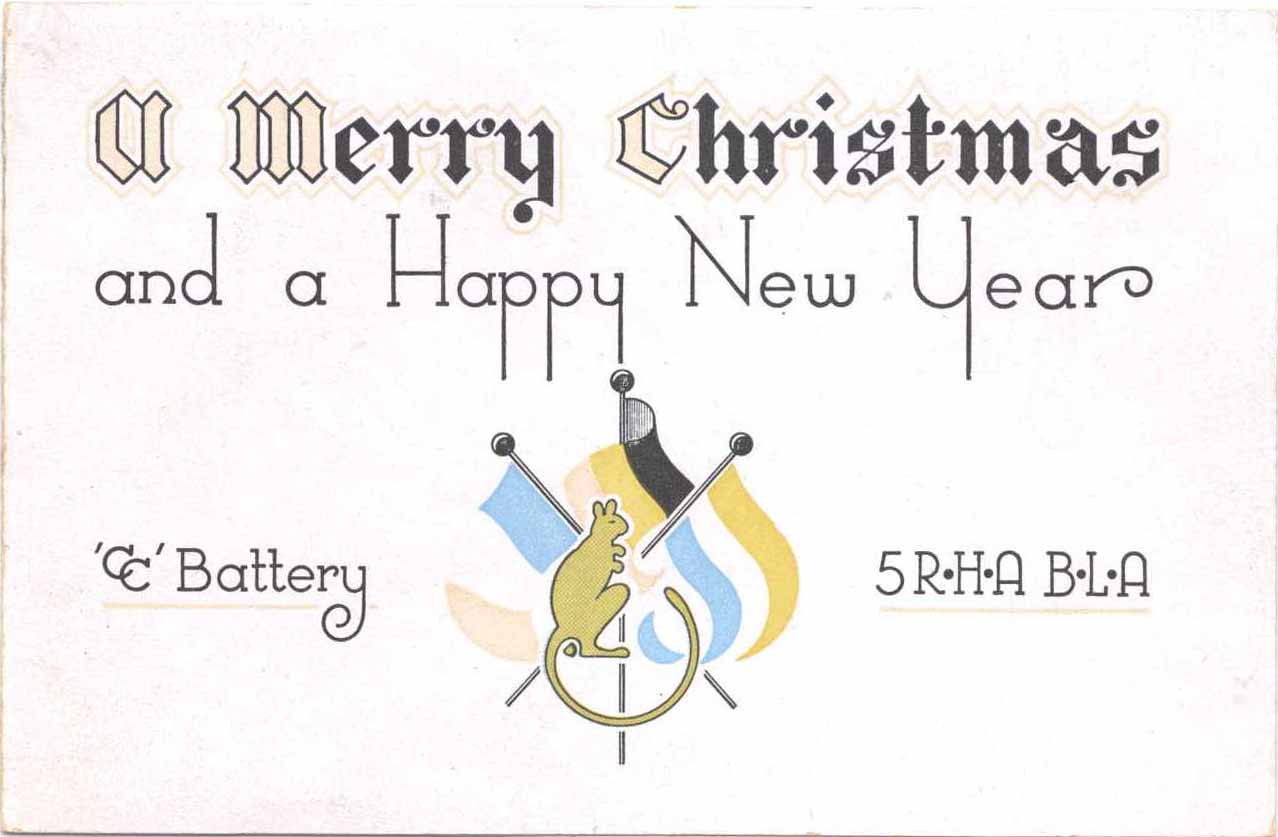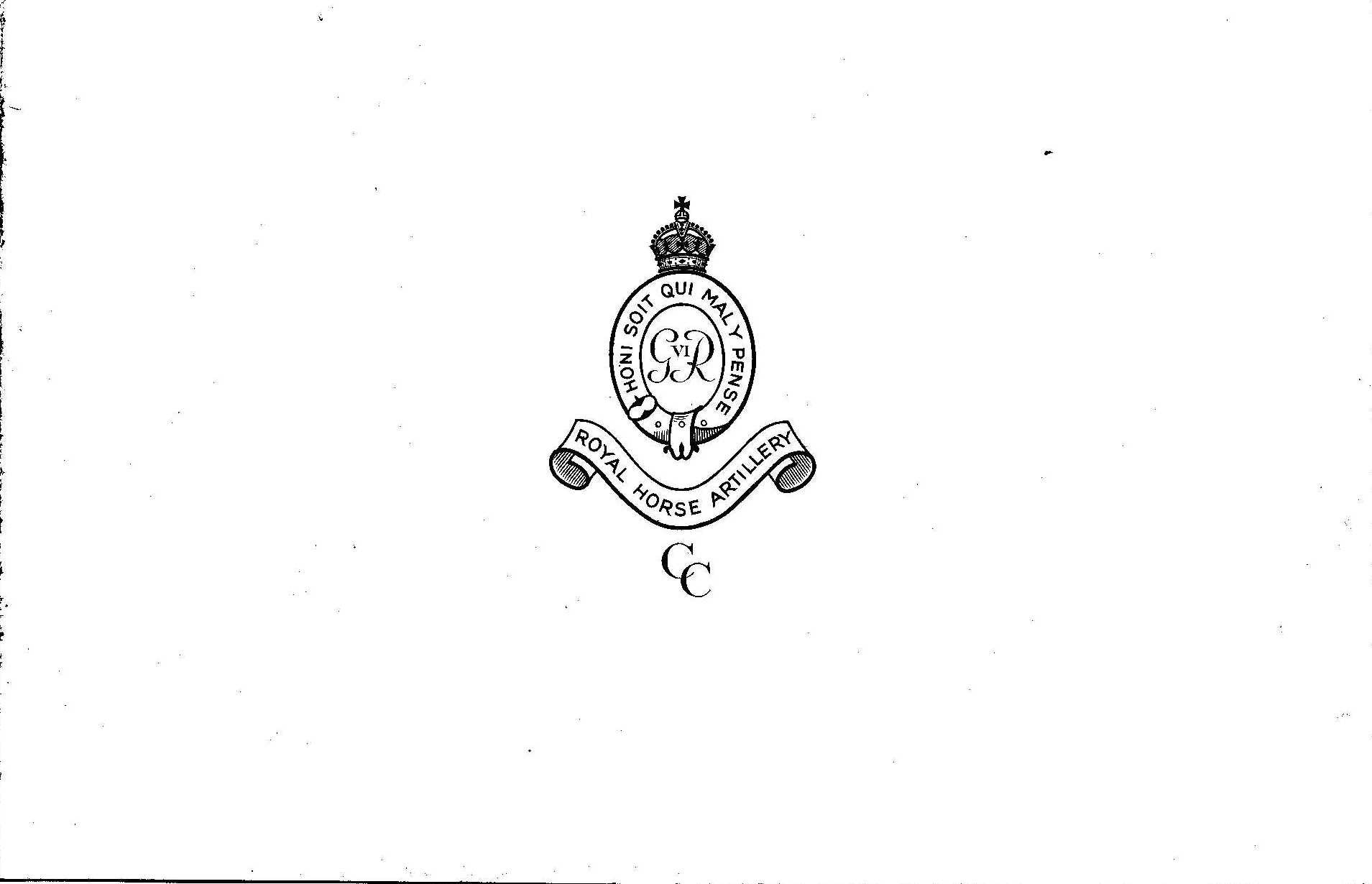 Menu for CC Battery, 5th RHA, Anniversary Dinner, in Sorrento, Italy on 19th November 1943.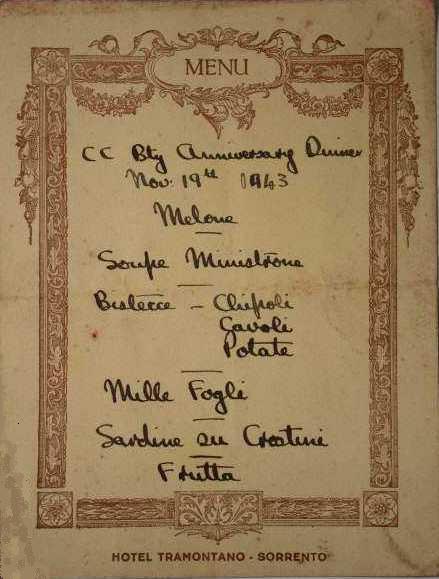 5th RTR Memorial Service 24th June 1945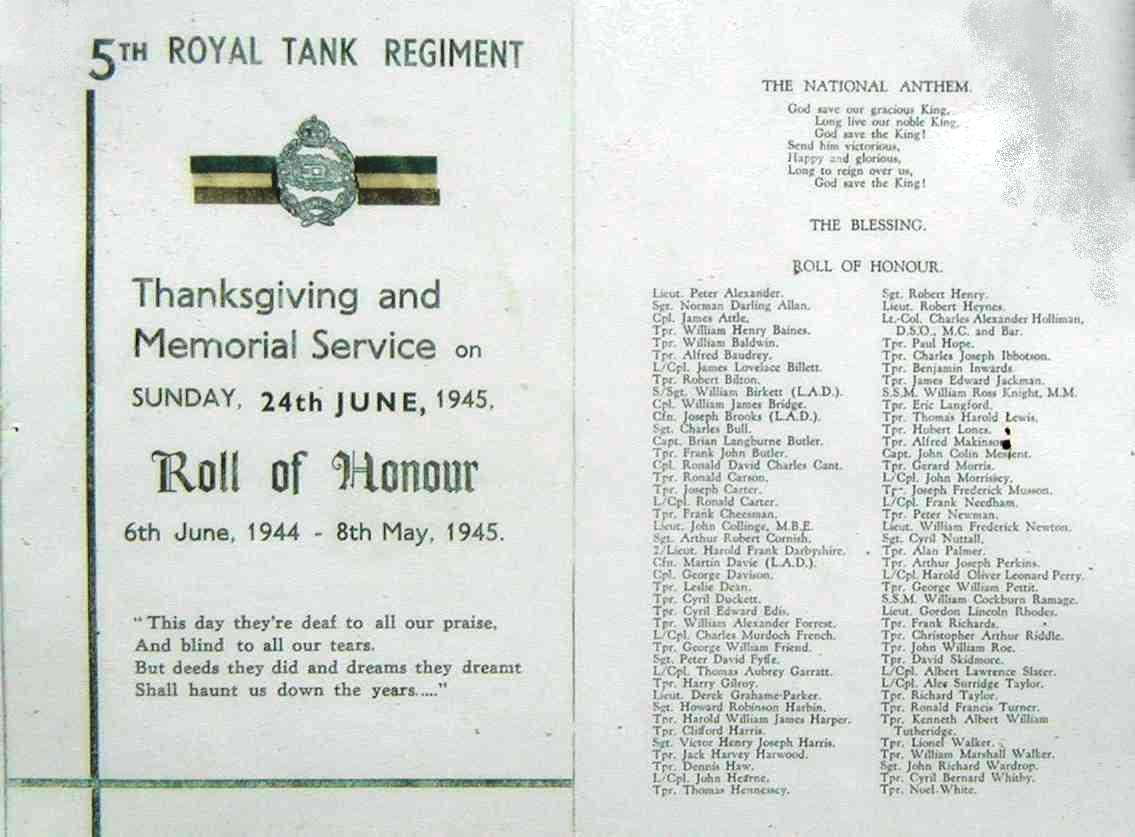 Divisional Sign Post In Berlin 1945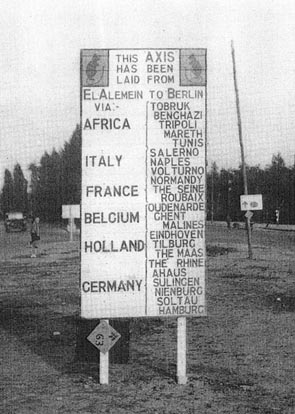 Cartoon from the day after the Victory Parade and Winston Churchill opened the 'Winston Club' in Berlin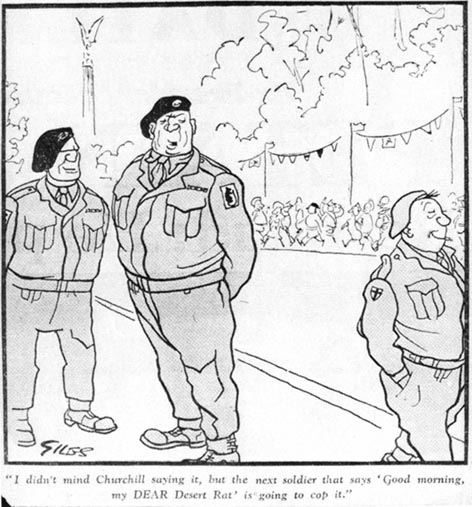 Cartoon published on 24th July 1945.
21st Army Group Non Fraternisation Orders
Courtesy of Donovan DeAntiquis (Queen's Royal Regt) and his Daughter Jenny Goodman.

Letter 4 courtesy of Les Darby (4th Armd Bde Ordnance Field Park RAOC) via his son Graham

Darby.
British Second Army Thanksgiving Service
Courtesy of Donovan DeAntiquis (Queen's Royal Regt) and his Daughter Jenny Goodman.
Divisional HQ mementoes of a meal in the Sergeant's Mess, November 1945.
From Sgt E Webster, courtesy Roger Fogg
Thank you note from Montgomery and 21st Army Group, to those being demobbed after the war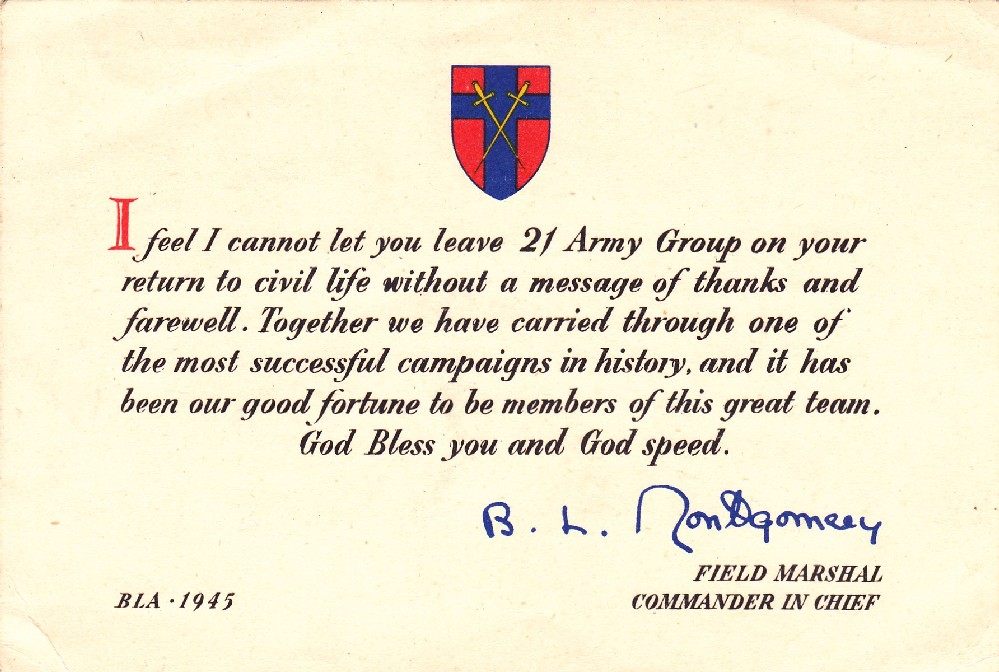 This is the pack my father brought home when he left the 7th Armoured Division, containing a small booklet with a note from Major-General Lyne and some photographs as part of it.
A warning about the local water

From the 1936 Berlin Olympic Stadium

The Divisional Signpost

A hull down Panther tank in Berlin, with a Russian sign behind it.

An abandoned Panther tank, probably somewhere in Berlin
A Copy of 'CC' Calling Magazine, 25th September 1945, produced by CC Battery, 5th RHA while in Berlin
| | |
| --- | --- |
| | |
| | |
| | |
| | |
| | |
| | |
A Map showing the Divisions travels from Egypt.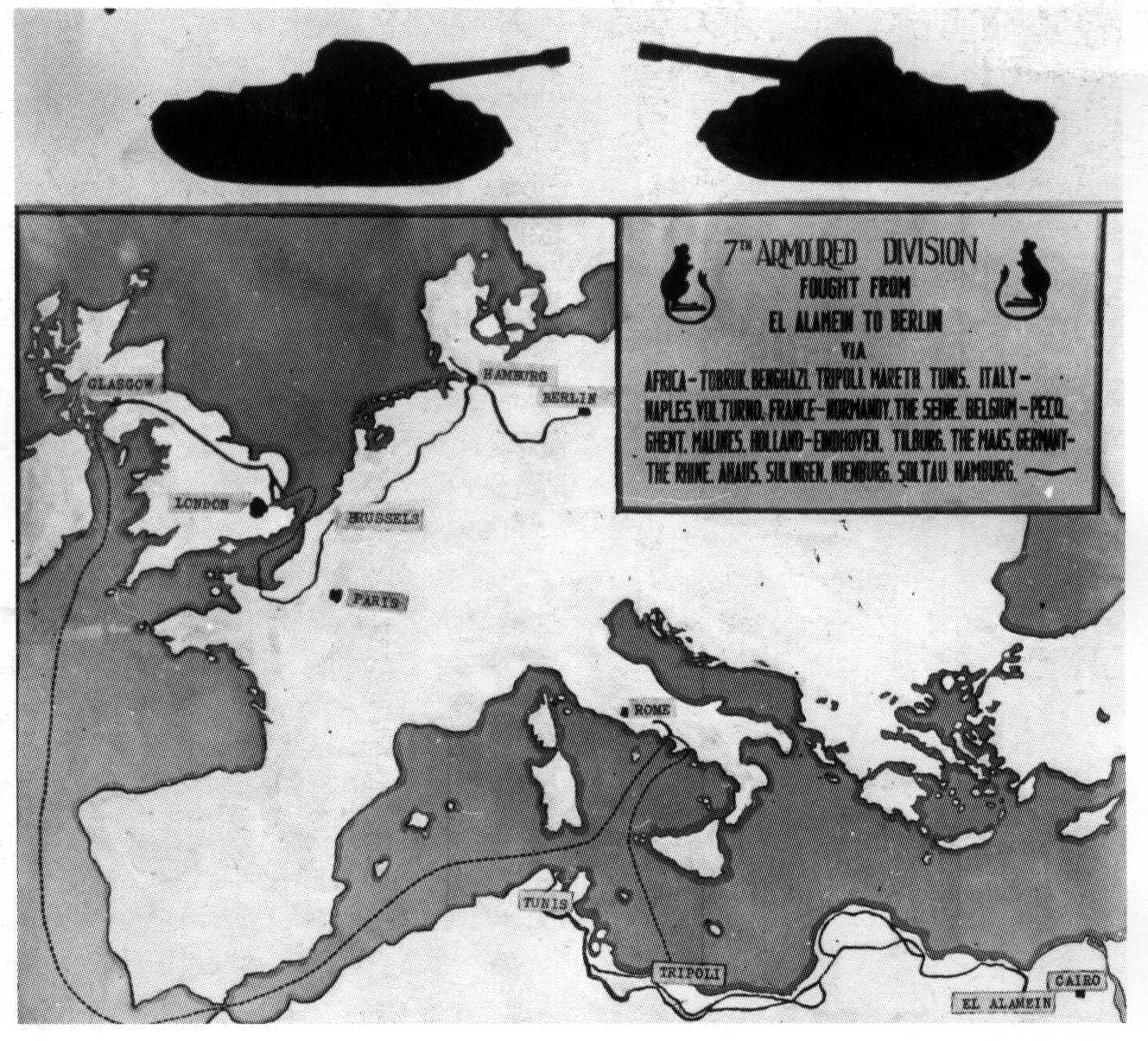 If you have anything that you feel may be suitable for this page please click here to contact me
Main Site Map The Desert Years, Italy and Northern Europe, The Men of the Desert Rats,
Engagements and campaigns page Equipment Page Organisation Page