NEWS & EVENTS LETTER
Desert Rats Association
______________________________________________________________________
2018
Notice to all members
Please note that the A.G.M. will be held on
Thursday 12th April 2018, starting at 10.00am
And will be held in the Schoolroom at
Forest Enterprise Headquarters
Santon Downham
Brandon
Suffolk
Would all members who are planning to attend please reply to the Secretary before 31st March 2018
Address: Eastview
The Fen,
Stoke Road,
Boughton,
Kings Lynn,
Norfolk.
PE33 9QQ.
Telephone 01366 501008
email: Secretary
Michele Hortenstine
Secretary
---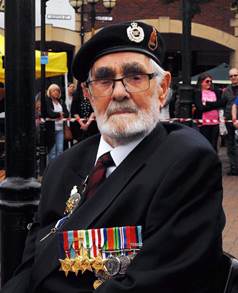 With sadness we must announce the death of Sapper Thomas Campbell, of 621 Field Squadron, RE.
This is his story, in his own words.
Joined on 13-11-1941 in Clitheroe, Low Mills, Lanes and was posted to Everton Sands. Sailed from Liverpool to Cape Town then 2 weeks later onto Egypt where we fought in the battle of the Alamein with the 6th Field Squadron. Whilst there suffered a poisoned hand spending two days in hospital then was posted to the 21st Field Squadron In Tripoli.
The Desert Rats captured Tripoli the Marath line, after we lifted a minefield in front of the guards, we came back and unloaded the remains of the mines. One was still armed and when Corporal Ginger McDonald dropped it. It blew up killing him and injuring many more of the troops. I was lucky to escape the blast, as I was standing to the side of the wagon. The Sergeant asked for a volunteer to collect Gingers remains and I agreed to do this so we could give him a proper send off. It was not an easy task as he was a good friend ..
From Tripoli I went to Megelsbab and joined up with the American 1st Army. We landed in North Africa and captured Tunis. After celebrations we headed home.
Whilst we were at Homs we spent some of our time swimming out to a sunken Italian steamer which was about ½ mile out from shore. One night after a concert a few of us decided to-go skinny dipping in the sea. Whilst we were swimming a few of the artists came along the beach, causing us to stay in the water until they left by which time we were a bit chilly.
Also whilst at Hams, I went with Jimmy Brown to meet his brother Tom. Tom was a Sergeant in the Northumberland Fusiliers, (Machine Gun Regiment) based near Tripoli.
From Homs we went onto Salerno. During that time I went to a South African hospital suffering with dysentery for two weeks. Upon leaving hospital I was sent to a convalescent home, as the squad were moving to port in Tripoli, I re-joined the squad three days before we left for Salerno.
We landed in Salerno in September 1943. It was quiet as day broke and we landed as an advance party to our division. Sadly our cook was killed by an enemy shell.
We then moved onto Casertta and the river Bolterno. We fought up as far as Motrogoni and thenpulled back to Castle Lemaria on 2nd November 1943 near Naples ready to go home in the November. I went to Sorento to meet Raymond Harris who came from Millam. he was military police. Landed in Gourock, Scotland 7th January 1944 by train then to Brandon in Norfolk, went on leave on for 21 days.
Then went into training for Normandy. We landed at Gold Beach, Normandy on the 7th June.
I was finally discharged from the 107th Field Company Royal Engineers with Exemplary military service on November 28th 1946 and returned home to the Lakes.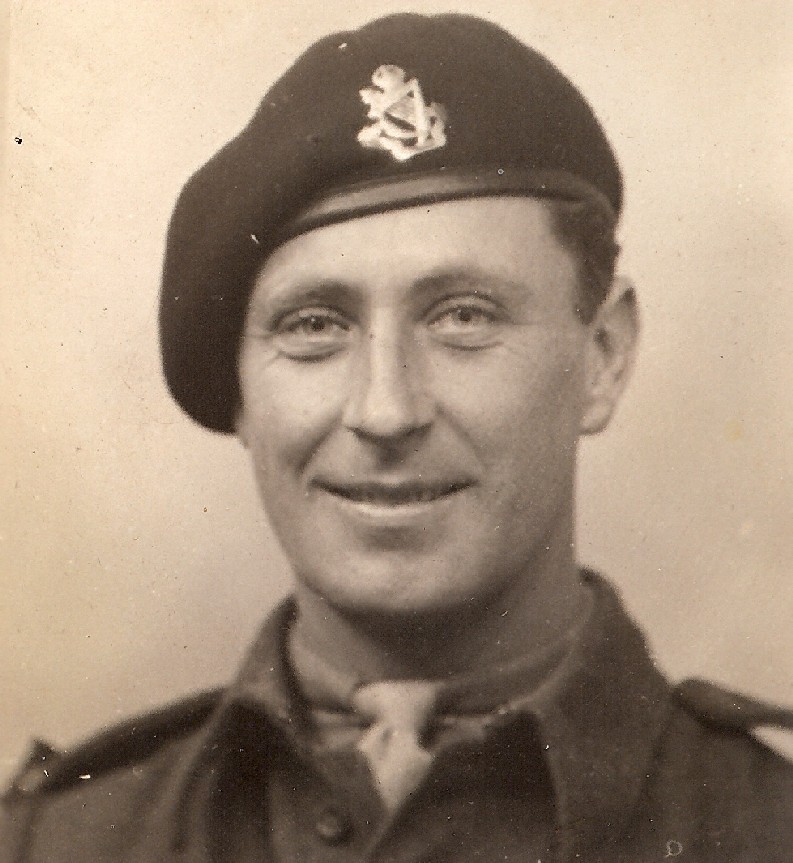 It is with sadness that the association has just been advised of the passing of Lt-Col Thomas Cole, 8th King's Royal Irish Hussars, less than two months after we celebrated his 100th birthday in our December Newsletter.
Lt-Col Cole died on Tuesday, 6th February, peacefully at home.
The Association attended the funeral which was held at 2pm on Wednesday, 21st February 2018 at St Cuthbert's Church, Great Glen, Leicestershire LE8 9FE
---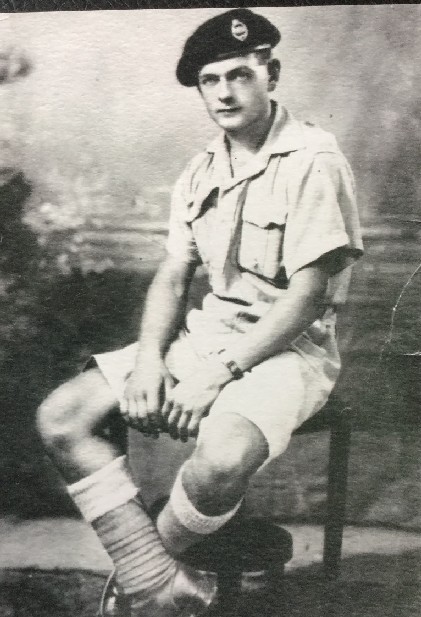 Thomas Beevers
The Association would like to wish Thomas Beevers from Maghull, Liverpool, a very Happy 101st Birthday on 12th April 2018.
Thomas served as a# Desert Rat' for 6 ¾ years in 6th Royal Tank Regiment, in the Middle East, Palestine, Lebanon, Syria, Iraq and Italy before moving to France and Germany.
---
With sadness the association has just been advised of the passing of Robert Stanley Lay.
7943389 Corporal Robert Stanley Lay Royal Tank Regiment (known as Bob) passed away on the 14 July 2018 at the grand old age of 97.
Bob was a London boy, born on the 18 April 1921, Hornsey, London. He enlisted into the Royal Tank Regiment in Tidworth, Wiltshire 24 July 1941. Training as a Driver/Radio Operator, Bob was posted to C Squadron, 5th Royal Tank Regiment (The Fighting Fifth), 22 Armoured Brigade, 7th Armoured Division the 'Desert Rats'. Fighting in the great battles of the summer and autumn of 1942 to break and then pushback Field Marshall Rommel's Africa Corps, battles including the Alamein Line and the battle of El Alamein and then the long bloody advance through the western desert and into Tunis.
On the 15th September 1943, the Bob landed at Salerno, but after the Volturno crossing, he returned to England with the rest of 7th Armoured Division to prepare for North West Europe, at High Ash, Thetford Forrest. Bob landed in Normandy on the 7th June 1944 and, after heavy fighting in the "Bocage" the Fifth took part in the Great Advance through France and Belgium. Bob along with the Fifth assisted in the liberation of Ghent from occupying forces after which, on 6th September 1944, the 5th Royal Tank Regiment were presented with the Freedom of Ghent. Robert continued fighting and the great advance across Northern Germany, finishing in Hamburg. In the final hours of the war in Europe, Bob was operating his radio from Hamburg town hall.
On returning to England Bob met and then married Peggy King in 1951. Peggy served in the WAAF after the war had ended. They have two daughters, four grandchildren and several great grandchildren.
Bob will be laid to rest, 14th August 2018 at Blyth Northumberland.
For details please contact his daughters at either 07930048003 or 07879483034.
The family have kindly sent the Association some photographs of Bob for this tribute.
circa 1942

70th Anniversary commemoration of the Battle of El Alamein held at Westminster Abbey

Sailing on the Norfolk Broads as a young lad
---
The 100th Birthday of a Desert Rat - Warrant Officer 1 Leonard Burritt
Scribe: Rosemary Wood
My father, Warrant Officer 1 Leonard Burritt Royal Signals, will be celebrating his 100th birthday this year on August 28th with his children, grandchildren, great grandchildren, family, local friends and army colleagues.
He was born in Ightham, Kent, the eldest of 6 children from his father's second marriage; there being 6 children from the first marriage. My grandfather was a country estate manager who specialized in exhibiting pigs, which won numerous prizes at all the county shows. Leonard enjoyed visiting these agricultural shows which took place from May to September every year. Aged 14 he was forced to leave grammar school to begin working with his father on the estate, which he did until 1936 when he considered changing his way of life by joining the army. At some of the county shows he had watched the Royal Corps of Signals display team in the main arena with their horses and motorcycles. This experience impressed him enough to want to join their ranks based at Catterick in Yorkshire. At the army recruiting office he was given the King's shilling, a railway pass to Richmond and was informed that, at the age of 18, he was now a soldier!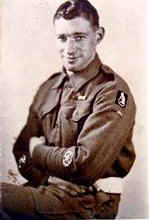 After passing out and winning the shield for the best squad in the depot Len moved to "E" company wireless operating training where he learnt to send and receive Morse code and passed his driving test on a 6-wheeled 3-ton lorry and a motorcycle. He was then posted to Egypt for 5 years leaving the UK in January 1938 and was stationed at HQBTE where he remained until August that year. He was then ordered to the barracks at Abbassia to join the newly formed mobile wireless troop, the "Egypt mobile desert division". Later in 1940 it became known as the "7th Armoured Division", nicknamed the "Desert Rats". Here he was in charge of Armoured Command Vehicle 1 (ACV1), the nerve centre of the division. During a 4-month period he was detailed to Palestine, Jerusalem, Jericho, Cairo, Alexandria, Gerawala, El Alamein and El Dabaa which entailed working 18-hour days. This was during the Munich crisis of 1938.
In September 1939 war was declared with Germany and in June 1940 with Italy. Len was to remain in the desert until the capture of Tunis in May 1943, officially having only 4 days leave and he was not to see his family for over 7 years. During this time the division captured Tobruk and Benghazi plus Salerno in Italy. He was present at over 100 battles in 15 countries during four and half years in or near the front line. This included the battle for El Alamein in October 1942, the turning point of the North African campaign. Finally, he returned to the UK in January 1944 ready for the war in Europe.
Len married his childhood sweetheart, Connie, in April 1944 but the wedding had to be brought forward because of training for D-Day. On June 6th he set sail from Tilbury in preparation for the operation. It was his job to supply communications to the frontline troops who had landed before him and had the responsibility of ensuring a smooth dis-embarkment for the convoy of vehicles leaving the ships.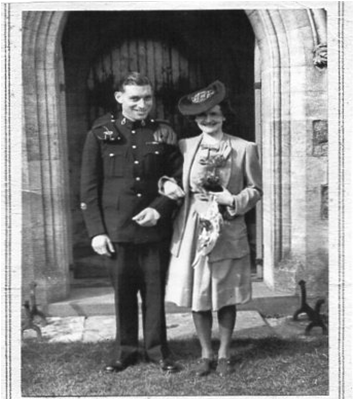 Len and Connie's wedding day 1st April, 1944
Len was demobilised in May 1946 having turned down a commission as Captain because it entailed going to Burma and returned to life in farming, where he continued to work as an estate manager, winning countless prizes with Jersey cattle at the agricultural shows until his retirement in 1983. I was born in 1945 and my brother, Roger, in 1947. Sadly, Connie died in 2007 after 63 years of marriage. His grandchildren, Katie, William and Christopher and his great-grandchildren Jamie, Thomas, Charlotte and Ellie all enjoy reading his memories of life in the desert.
At the age of 80 Len attended computer classes at a local college and became adept at typing detailed accounts of his earlier life, using the internet and even has his own Facebook page, although recently his sight has become impaired.
In 1984 he attended the 40th anniversary of D-Day in Normandy which was attended by HM the Queen. Len also regularly attended the annual reunion of the Desert Rats association every June until this year. In October 2011 he returned to El Alamein revisiting many of the battlefields and the massive cemeteries with row upon row of gravestones, some of which bore the names of his fallen comrades. In 2012, for the 70th anniversary of this battle, a commemoration was held at Mundford where Len had the honour of laying a wreath on behalf of HRH the Duchess of Cornwall. He was also invited to a reception in the House of Lords by the present Viscount Montgomery of Alamein.
Len has been honoured by receiving 10 medals during his 10-year army career and was mentioned in dispatches for distinguished service. In 2016 he was awarded the Légion d'Honneur for his part in the liberation of France.
The family are all extremely proud of his army service and contribution to the fight for freedom during WW2 and were especially delighted to see him honoured on national television at last year's remembrance service on 11th November in the Royal Albert Hall.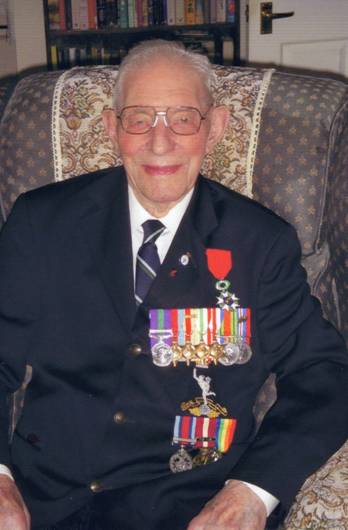 Len in 2018
---