NEWS & EVENTS LETTER
Desert Rats Association
______________________________________________________________________
2019
Notice to all members
Please note that the A.G.M. will be held on
Sunday 7th April 2019, starting at 1.00pm
And will be held at
Lynford Hall Hotel,
Mundford,
Norfolk,
IP26 5HW
Please ask at reception to directions to the room meeting is being held in.
---
10691731 Corporal Alf Jackson - Royal Army Service Corps

D.O.B. 23 January 1921 – D.O.D. 11 March 2019

Alf was born 23 January 1921, in Brentford, West London, the oldest son of a family of mobile grocers. Alf drove the family vehicle and because of its protected trade status, he was spared call-up at age 18. However, this was only pushed back to his 21st birthday, and when his younger brother became old enough to drive, he was called up and enlisted in the Royal Army Service CORPS (RASC), 12 March 1942.

After basic and trade training, Alf qualified as a Class 1 Driver RASC, received a bit of leave, a few weeks' home guard-style duty on the south coast, before shipping out on the Duchess of Atholl [the ship was torpedoed on the return journey] bound for the Middle East, and a posting to the Mediterranean Expeditionary Force. He arrived in the scorching September heat, to be thrown into the mill with 65 Company RASC, 7th Armoured Division, finding himself within a few weeks delivering ammunition, combat supplies and water at the hard fought 2nd Battle of El-Alamein.

This pivotal battle took place near the Egyptian railway station of that name. It is remembered now for the bold tactics employed by the newly-appointed commander Field Marshal Montgomery, who clinched the ultimate defeat of Field Marshal Rommel's forces, starting with a seven-hour aerial bombardment followed by a five-hour barrage of 1,000 guns firing 529,000 shells, followed by a feint attack in the south and a break-through in the north, when the German/Italian broke and conducted a fighting retreated hundreds of miles to the west, before going firm to lick their wounds and halt the Allies on the border of Tunisia.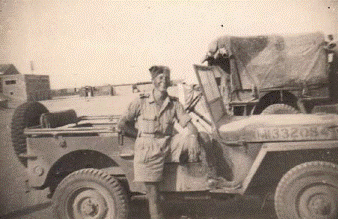 Alf with a Willis Jeep in North Africa
Alf remembers observing this overnight battle from half a mile behind the front line. "The sky was lit up as bright as day, and it went on all night. The sound of the shells was deafening, and it just never stopped." During the latter stages of the battle at Halfaya Pass, Alf came across a hastily abandoned Afrika CORPS HQ, were he came across a high-ranking German Officer dead in a Fieseler Storch aircraft. He also provided water to hundreds of German prisoners of war and liberated a German commemorative plaque, which he kept as a souvenir to this day.
Kriegsmarine Plaque liberated

from Rommel's HQ in 1942.

Desert Hospitality - a Bivouac and slit trench made for two
As the war progressed and as the allies gained the initiative, Alf advanced through Libya, into Tunisia and the final defeat of the Axis forces in North Africa. There are many humorous stories of his time in the desert. Living under canvas, the flies, lack of hygiene, Bully Beef, the heat of the day and the cool long nights, but all Alf's stories are told with humanity, passion and with an upbeat manner only he could do, as he captivates his audiences, whatever age.
From Tunisia, Alf was supporting the invaded of the so-called 'soft underbelly of Europe', travelled the length and breadth of Italy supporting the 8th Army from Monte Cassino and the Gustav Line to the Gothic line and the final surrender of Axis forces in Italy. On the 20th March 1946 Alf was de-mobbed and transitioned into civilian life.
After demobilization in 1946, Alf rejoined the family mobile grocery business, taking control of it as his father's health deteriorated and getting to grips with the rigors of ration coupons for every customer and the changes to society in the post-war era. Women were out at work, money was scarce, food was rationed. No cars had been manufactured since 1939. But Alf already had his music, and soon formed an accordion band, where he played the accordion obtained in Castelfidardo, at dances and weddings.
By 1952 there was little remaining business for a mobile grocer, and he joined British Oxygen as a delivery driver, travelling the length of Southern England with vital cylinders for hospitals. He remembers crawling through the London smog of 1953 with a co-driver walking ahead to show the way, finally leaving the lorry near Waterloo Bridge and going home on the Tube, with the job fully done.
In his early forties he met Muriel, a widow with a teenage daughter, married and adapted to family life. As he grew older, he moved away from the heavy oxygen cylinders to work as a store's manager, for a company whose spare parts department he rationalized into a profit-making sideline.
His spare time, though, was devoted to music, and he continued to play for dancing at weekends, with a portable electric organ crammed into the back seat of his 1946 Rover 16, with a speaker on the tailboard. In 1970, he and Muriel became committee members of the American Theatre Organ Society, and in retirement years they travelled around the UK visiting, and playing, the theatre organs that remained in public buildings.
Relocation to South Wales came with his stepdaughter's job promotion, and at age seventy, the couple set up home in Llantwit Major, a few miles west of Cardiff, where he soon set about refurbishing a neglected Hammond organ in the local hall before starting his own organ society. At age eighty-nine, the family took him to Blackpool, where he was able to play the Wurlitzer organ in the Tower Ballroom.
Alf was a fanatical motorist, and had clocked up seventy-six years at the wheel when his eyesight finally made him give up driving at the age of ninety-four.
At ninety, Alf attended the annual Desert Rats Memorial Service held at High Ash Camp, Mundford, where he shook hands with the Brigadier, was photographed with Monty and Churchill lookalikes, had a cuddle with the Swingtime Sweethearts, and marched in parade with Desert Rat veterans of all ages. Moved by the grateful handshakes he received from many attending, and only too happy to talk to anyone about his experiences as a soldier, he returned each year, his final visit being in 2018.
Alf was a real character, a keen supporter of the Desert Rats Association and an entertainer to the end. One such recent event was when he was the honorary guest at a Royal Electrical and Mechanical Engineers (REME) officers' dinner to mark the 75th anniversary of the battle of El-Alamein, in October 2017. Alf found himself in the place of honour at top table, in the company of Major General Rob Nitsch CBE and Major General Mark Gaunt CBE, as well as about seventy high-ranking officers and their partners.
Seated to the right of the presiding General, in front of silver candelabra and cutlery, Alf was amused to find himself reminded, several times, while chatting to the General about his wartime exploits, that he would need to start eating, as form dictates that no one may eat before the guest of honour!
Many of the officers present made their way to hear Alf's stories at first hand, and his enjoyment of the evening was rounded off by the discovery of a Steinway grand piano in an adjoining bar. This resulted in Alf being asked to play, which he happily did for the assembled horde until 1:30 in the morning.
| | |
| --- | --- |
| | |
| Alf debriefing Major General Rob Nitsch CBE | Alf entertaining the troops at 0130hrs |
He passed away suddenly and peacefully in hospital on 11 March 2019, at ninety-eight years, having spent the preceding days entertaining his fellow patients with his stories of the wartime. He was a character that will live on in peoples' memories for years to come.
Alf was interviewed on video in autumn 2018, and can be heard recounting many of his stories. The two-hour video can be found by searching for The Lone Rat on YouTube. The Lone Rat is Richard Pinches, a Desert Rat re-enactor whose own father was a Rat, who is also a professional film-maker. Alf's considerable newspaper coverage can be found on search engines by searching for a combination of Alf Jackson desert rat, Alf Jackson accordion, Alf Jackson music, Alf Jackson Blackpool etc.
---
THE DESERT RATS ASSOCIATION Bi-Annual news-letter Summer 2019

Please find below newsletter for the association for summer 2019.
Newsletters is shown here.
Simon Copley-Smith
Chairman
---
THE DESERT RATS ASSOCIATION Bi-Annual news-letter Winter 2019

Please find below newsletter for the association for winter 2019.
Newsletters is shown
Simon Copley-Smith
Chairman
---