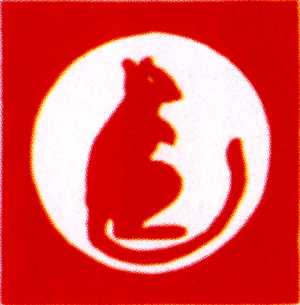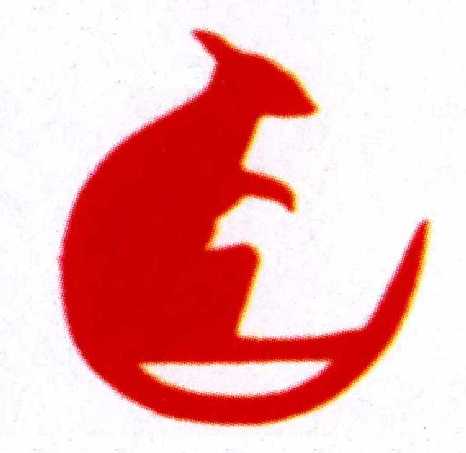 Equipment Used By the Armoured Car Regiments
During the war the most dramatic developments took in the field of Armoured Fighting Vehicles. The Armoured Car developed from nothing more that a normal car armed with a machine gun into fast moving, moderately well armoured vehicles with a lot of fire power. What follows is a brief summary of the Armoured Cars that were used by the Cavalry Regiments that served in or with the Division during the Second World War. Due to the large numbers I have had to restrict the information on each.
Armoured Cars
It is worth noting prior to the start of the Second World War the Armoured Cars used by British Army were basically a slight adaptation of a standard a civilian design, mounting a machine gun or guns, sometimes with some armour plate attached to the host chassis and body work. A few had a turret to carry the armament in. By the end of the war the Armoured Car and its companion the Scout Car, were more sophisticated, having better armour and armament. Some were even devoted to Anti-aircraft use. The main Armoured Car Regiment to serve in, or attached to, the Division was the 11th Hussars, so this is very much their story, too.
To learn more about the role of the Armoured Car Regiment in an Armoured Division click here.
The Rolls Royce Armoured Car was veteran of the First World War. In 1914 the Royal Naval Air Service raised and manned an armoured car squadron to protect its airfields in Belgium. The vehicles were constructed on standard Rolls Royce Silver Ghost chassis, on which a steel superstructure was built, with a revolving turret on top, which carried a Vickers MMG. Twin rear wheels were fitted to support the additional weight, but little other modification was needed to the basis chassis. Most of the armoured cars were sent to the Middle East in 1915, where they passed into the control of the Army. They were attached to Cavalry units in Palestine where they proved very effective.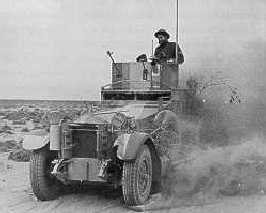 By 1939, 150 cars were is service, with many in Britain for home defence, but over half were in the Middle East or India. Several were used in Syria, in 1941, and also in the early desert campaigns of that year. However by that time it was clear that this 1914 design had no place on the battlefield, so when more modern cars became available they were withdrawn from service and scrapped. Before they were withdrawn the cars were fitted with an open topped turret and re-armed with the

Boys Anti-Tank Rifle to provide additional firepower, with a light machine gun or twin Vickers K guns on the top of the turret.

Rolls Royce Armoured Car, Specification
Armament

Armour

Weight

Length (m/ft in)

Width (m/ft in)

Height (m/ft in)

Powerplant

Speed (Km/h/Mph)

Crew

1 x 0.303" MG, plus Boys A/T Rifle

Plus 2 x Vickers K guns for Anti-aircraft defence on some vehicles

9 mm (0.35in)

4.22 tonnes

4.93/

16ft 2in

1.93/

6ft 4in

2.54/

8ft 4in

6 cyl petrol

72/45

3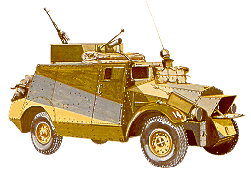 The Morris CS9 armoured car was a converted Morris 4x2, 15-cwt truck, and was a stopgap until better designs became available. 99 were built in 1938 and 38 saw service with 12th Royal Lancers in France 1940 and another 30 sent to North Africa, serving with 11th Hussars as part of a Rolls Royce equipment unit. It remained in service until 1943.
Morris CS9, Specification:
Armament

Armour

Weight

Length (m/ft in)

Width (m/ft in)

Height (m/ft in)

Powerplant

Speed (Km/h/Mph)

Crew

1 x 0.303" MG, plus Boys A/T Rifle

14 mm (0.6in)

4.5 tonnes

4.77/

15ft 6in

20.5/

6ft 9in

2.13/

7ft

Morris 6-cyl, petrol

73/45

(Road)

(Range of 385 km/240 miles)

4
Marmon-Harrington Armoured Cars:
In 1938, the South African army ordered some armoured cars from Britain, but with the outbreak of war supply was slow and difficult, so local manufacture was started. Truck chassis (mainly Ford 3-ton ones) were ordered from Canada and "conversion kits" from the Marmon-Harrington company, who were a US firm producing light tanks and armoured cars. Resulting vehicles were known as Marmon-Harrington Armoured Cars and were used extensively in the Western Desert by both the South African and British forces.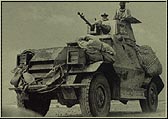 The venerable American Marmon-Herrington Company was one of the pioneers of the American auto industry. It was originally involved solely in civilian machinery and cars. Only in 1930s the Marmon Car Company was joined by Colonel Arthur Herrington, an ex-military engineer involved in the design of all-wheel drive vehicles. What followed was the development of military vehicles. Their armoured car concept was not an entirely original design, but rather a 4x4 conversion for a commercial 4x2 truck chassis suitable for use with a variety of armoured car bodies. In 1939, South Africa purchased these kits together with chassis from Canadian Ford and subsequently built them to armoured cars. Therefore, the car as a whole was actually a South African product. 135 of the initial MK I model were manufactured followed by 887 MK IIs. There were also a MK III and MK IV that looked completely different from the first two models. MK III was the most numerous version, 2260 being produced in total. The MK IV appeared too late to see combat in the North African campaign, and by the time it arrived, better British and American vehicles were already available in quantity. Of the five versions that were built, all of them were 4-wheeled and had 4-wheel drive. The MK I, II and III all had an had a turret mounting a machine gun and a Boys A/T rifle and in the MK IV model a 2-pdr was fitted, into a larger turret. The latter was a complete redesigned vehicle with the suspension, engine, and transmission were bolted onto the hull, with some even having runflat tires fitted.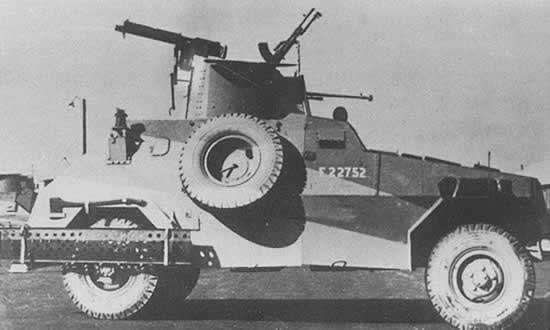 A 6-pdr (MK VI) version was designed which also had eight wheels, but it was never produced. In the field many were modified to carry capture weapons such as the Italian 20mm or 47mm and German 37mm or 28/20 mm taper bore anti-tank guns, or French 25 mm. In some cases these guns were mounted on top of the existing turret, but in others had field modifications made by removing the turrets the more powerful guns were then mounted behind gun shields. A Mk IIIA was also produced for anti-aircraft use which has the turret removed and two 0.303" Vickers K machine guns fitted on a ring mount protected by a steel skirt. Other variants of the car were artillery OP, ambulance, command car, fitter's vehicle, and RAF contact car that had AA Lewis gun in turret and radio antennae.
Despite its antiquated looks, the Marmon-Herrington armoured vehicle remained the mainstay of the British armoured car regiments in the Western Dessert until 1942. Marmon-Herringtons were used by the Indian Army in the Middle East, and the British and Indians between them had almost 1200 vehicles. They stayed in service until the end of the Tunisian campaign, some of them being used also in Italy. The British had also used them in Malaya and South Africa, the original and main user of the type, had over 4500 in total. They were also used by the RAF for airfield defence in the Middle East and North Africa.
Other users of the Marmon-Herrington included New Zealand, Free Greek, Free French and Polish armed forces. Some examples were also captured and used by Germans.
Marmon-Harrington Armoured Car, MKII, Specification
Armament

Armour

Weight

Length (m/ft in)

Width (m/ft in)

Height (m/ft in)

Powerplant

Speed (Km/h/Mph)

Crew

MK II: 1 x 0.303" MG, & 0.55-in Boys A/T Rifle, or 2 x 0.303" MG

12 mm (0.5in)

6 tonnes

4.88/

16ft

1.98/

6ft 6in

2.21/

7ft 3in

Ford V-8, petrol, 95 bhp

80/50

(Road)

(Range of 322 km/200 miles)


4

MK III: 1 x 0.303" MG, & 0.55-in Boys A/T Rifle, or 2 x 0.303" MG

12 mm (0.5in)

6.1 tonnes

5.3/

17ft 5in

2.29/

7ft 6in

2.49/

8ft 2in

Ford V-8, petrol, 95 bhp

80/50 (Road)

(Range of 322 km/200 miles)

4
Humber Scout and Armoured Cars, plus Quad AA Armoured Cars:
At the start of the war Britain's focus was on the production of heavy tanks, which led to a shortage of badly needed reconnaissance vehicles. By using readily available parts, the Allies put together vehicles such as the Beaverette. This was a Humber automobile equipped with armour plating and a machinegun. The Royal Air Force first used the Beaverette and cars like it for airfield security. Many of Britain's new Reconnaissance Corps units trained on these vehicles before using the light armoured reconnaissance car (LRC) or armoured reconnaissance car (ARC).
The Rootes Group began production of the Humber in 1941. It was based on a chassis design used as an artillery tractor (Karrier KT 4) for the Indian Army. General Motors and Hamilton Bridge manufactured a Canadian version of the Humber. Despite its initial role as airfield security, the Humber quickly found use as a reconnaissance asset. It was designed to scoot around the battlefield and probe enemy positions, find minefields and other obstructions, clear convoy routes, and provide escort or liaison. The little scout car was also used to range ahead of the main forces, either harassing the enemy or seizing and holding objectives until relieved by heavier forces.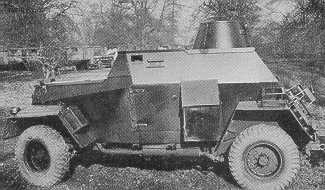 The MK I was usually armed with twin Brens or a Vickers K Light Machine Gun and the top of the vehicle was open. On the MK II as shield was added for the armament, while the MK III has a small turret, as shown right. In these Marks BESA 15mm and 7.92mm Machine Guns were used instead of the Bren or Vickers K guns.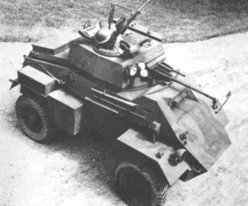 The Humber Mark I through Mark IV were officially designated as Light Armored Scout Cars, though the crews often referred to the later models as "heavies" in comparison to the earlier versions. The initial production Humber (MK I) rode on solid axles supported by semi-elliptic springs. Its armament consisted of one 15mm BESA machinegun and one 7.92mm BESA machinegun. It had a crew of three and weighed almost 7 tons. The engine was a Rootes 6 cylinder gasoline engine that developed 90 horsepower at 3,200 rpm. The Humber had a range of 250 miles and a top speed of 45 miles per hour. All Marked were based on the Quad Tractor chassis and although not a very sophisticated vehicle it proved reliable.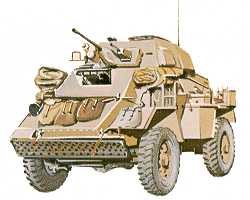 The Humber MK II had better armour for the driver and radiator. The MK III (shown left) was manned by four men instead of three and had a bigger turret, entering service in 1942. The Humber MK IV featured a 37 mm or 2-pdr gun and also carried a crew of four and entered service in 1943. A variant of the MK III was developed for Rear Link work and was a MK III converted to carry extra radio equipment with a fixed turret and dummy gun. Over 3,600 vehicles of all models were built by the end of World War Two. Variants of the Humber included a radio vehicle packed with equipment to retransmit signals from forward armoured cars to headquarters in the rear. After being replaced by the Daimler and Staghound Armoured Cars in the main Armoured Car Regiments, in late 1943 or early 1944. The Humber Armoured Car saw continued service with Reconnaissance Regiments until the end of the war, while the Scout Car served along side the Dingo and White Scout Car in both Armoured Car and Tank Regiments. Both the Scout and Armoured Car version also saw service for many years after the war.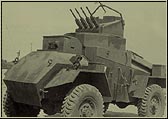 The Quad AA version was built to provide anti-aircraft cover for the armoured car units, being part of the Regimental HQ Troop. By late 1944 AA armoured cars were being phased out as allied air superiority meant the threat of air attack was less.
Humber Scout, Armoured and Quad AA Armoured Cars, Specification;
Armament

Armour

Weight

Length (m/ft in)

Width (m/ft in)

Height (m/ft in)

Powerplant

Speed (Km/h/Mph)

Crew

Humber Scout Car
2 x 0.303" MG for MK I

1 x 15mm BESA, plus 1 x 7.92mm BESA MG for MK II and MK III

29 mm (Max)

6.9 tonnes

4.57/ 12ft 7in
2.38/ 7ft 11in
2.18/

7ft 2in

Rootes, 6-cyl, Petrol

90 hp

72/45

(Road)

(Range 400 km/250 Miles)

2, plus 1 passenger

Humber MK I to MK III

1 x 7.92mm MG, plus 15mm BESA MG

29 mm (Max)

7 tonnes

4.5/

15ft

2.38/ 7ft 11in
2.35/

7ft 10in

Rootes, 6-cyl, Petrol

72/45

(Road)

(Range 320 km/200 Miles)

MKI & MKII - 3

MKIII - 4

Humber MK IV
1 x US M5 or M6 37 mm, plus 1 x 7.92mm BESA MG

29 mm (Max)

7 tonnes

4.5/

15ft

2.38/ 7ft 11in
2.35/

7ft 10in

Rootes, 6-cyl, Petrol

72/45

(Road)

(Range 320 km/200 Miles)

3

Quad AA

4 x 0.303" MGs

29 mm (Max)

7 tonnes

4.5/

15ft

2.38/ 7ft 11in
2.4/

8ft

Rootes, 6-cyl, Petrol

72/45

(Road)

(Range 320 km/200 Miles)

3
Daimler Scout and Armoured Cars: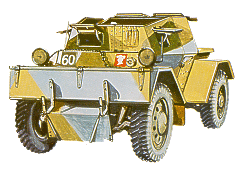 The Daimler Scout car was developed as the result of a need for a small partially armoured vehicle, that could be used for scouting and liaison roles. In 1938 the Mechanisation Board had Alvis Limited, BSA Cycles Limited, and Morris Commercial Cars Limited to submit prototypes for a turretless scouting vehicle. From these the Daimler was designed as a fast reconnaissance and liaison vehicle as out of three designs submitted the one from BSA's (Daimler's owner) was selected and BSA passed the production onto Daimler.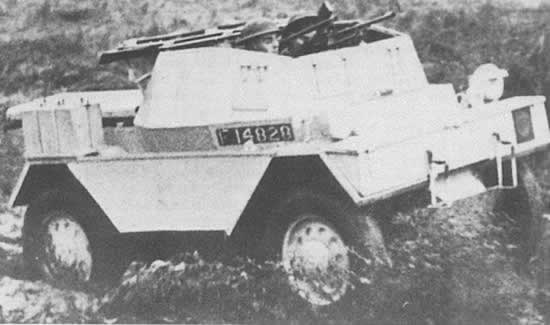 The first models had front wheel drive, sliding roof over the crew, and a potbelly cab. The engine was placed in the rear and the driver was positioned at an angle to help him drive in both directions. Later a 5-speed pre-selector gearbox which provided drive to all wheels. The MK I (picture left) had sliding roof, while the MK Ia had a folding roof instead, improved suspension, more powerful engine, a radio installed and more stowage. On the MK Ib, the cooling fan and the radiator grille were reversed. Some had radios or Vickers K-gun machine gun aand only few of this model had front wheel steering. The next model the MK II only had front wheel steering and a few had radios and mine rollers, fitted. The final model the MK III was provided with a waterproofed engine and the roof removed.
More commonly known as the "Dingo", it incorporated some of the most advanced design concepts of the time. The design was so successful 6,626 vehicles were built and five Marks were produced. The "Dingo" also served with the infantry and artillery in a number of rolls.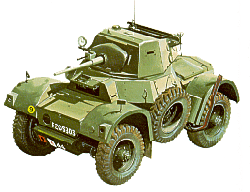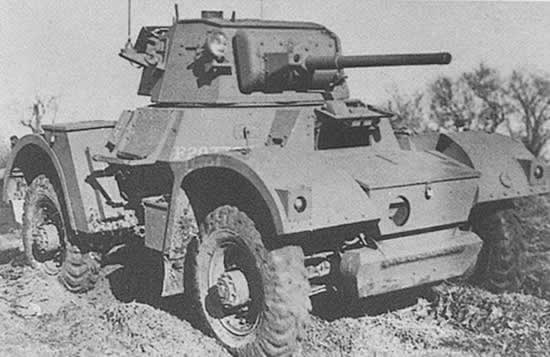 The Daimler Armoured Car was basically a larger version of the Scout Car and the first prototypes appeared in late 1939. These had problems as the weight of the vehicle overloaded the transmission. These were fixed, but it was not until April 1941 that the first production vehicles appeared. They were first used in North Africa during 1941 and 1942, replacing the Marmon-Herrington vvehicles. The MK I used the turret that was used on Tetrarch tank and some of them had smoke dischargers on turret sides. It also used Girling hydraulic disc brakes and another steering wheel and controls were available to the commander to drive to the rear. Some guns were fitted with Littlejohn Adapter that would squeeze projectile and allow for greater armour penetration. MK I CS (Close Support) version with a 3 inch (76.2 mm) Howitzer that could fire both HE and smoke was also few produced, but not in great numbers. The MK II had an improved turret and drivers escape hatch.
This provided more fire power than the previous armoured cars and the Daimler proved itself rugged and reliable, being used for reconnaissance and escort work. It saw action in North Africa and the European Theatre of Operations, with 2,964 being built.
Daimler Scout and Armoured Car, Specification:
Model

Armament

Armour

Weight

Length (m/ft in)

Width (m/ft in)

Height (m/ft in)

Powerplant

Speed (Km/h/Mph)

Crew

Scout Car

1 x 0.303" MG, plus 2 x Smoke grenade launchers

20 mm (0.75") - Max

4.5 tonnes

3.18/

10ft 5in

1.7/

5ft 8in

1.5/

4ft 11in

Daimler 6-cyl, petrol, 55 bhp

89/60

(Road)

(Range of 322 km/200 miles)

2

Armoured Car
2-pdr, 1 x 0.303" MG

25 mm (1") - Max

7.5 tonnes

4/

13ft 1in

2.4/

8ft

2.2/

7ft 4in

Daimler 6-cyl, petrol, 95 bhp

80/50 (Road)

(Range of 322 km/200 miles)

3
Daimler (Dingo) Scout Car
Staghound I, II, III and Twin AA Armoured Cars: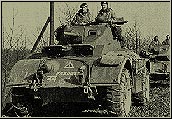 TThe Staghound was a US built vehicle, originally intended for desert use and was large and heavy. Although this was not a problem in the desert, in the narrow lanes and streets of Europe this proved a liability. It first went into combat in Italy in 1943. A number were modified to carry a 76mm Close Support howitzer being designated Staghound II. A total of 2,844 were built and they were used by all the Commonwealth forces.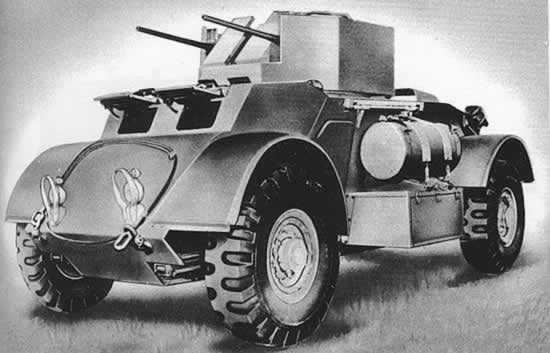 The Staghound Dual 0.5" AA (shown right) was basically the Staghound I with a replacement turret, mounting two 0.5" Machine Guns. They were normally attached to the Regimental HQ's of armoured car and tank regiments, being deployed as necessary. Some 1000 were built.
A Staghound MK III was also developed which had Crusader tank turret with 75mm gun mounted. This was issued to heavy troops of armoured car regiments
Staghound I and 0.5" AA Armoured Cars, Specification;
Armament

Armour

Weight

Length (m/ft in)

Width (m/ft in)
Height (m/ft in)
Powerplant

Speed (Km/h/Mph)

Crew

Staghound I

1 x 37mm Gun, plus 3 x 0.30" MGs

32 mm (Max)

12 tonnes

5.49/

17ft 10in

2.69/

8ft 10in

2.36/

7ft 9in

2 x GMC 270, Petrol

192HP total

89/55

5

Staghound II

1 x 76mm CS Howitzer, plus 2 x 0.30" MGs

32 mm (Max)

12 tonnes

5.49/

17ft 10in

2.69/

8ft 10in

2.36/

7ft 9in

2 x GMC 270, Petrol

192HP total

89/55

5

Staghound III

1 x 75mm Gun, plus 3 x 0.30" MGs

32 mm (Max)

12 tonnes

5.49/

17ft 10in

2.69/

8ft 10in

2.36/

7ft 9in

2 x GMC 270, Petrol

192HP total

89/55

5

Staghound Dual AA

2 x 0.5" MGs

32 mm (Max)

12 tonnes

5.49/

17ft 10in

2.69/

8ft 10in

2.36/

7ft 9in

2 x GMC 270, Petrol

192HP total

89/55

5
This vehicle was first created by the White Motor Company in 1938, being based on a commercial truck chassis, with an armoured body added. It was designed for high speed scouting and called the T7, but in June 1939 it was re-designated as the M3 scout car. It had a roller mounted in front of the bumper that could be lowered help it not bog down in soft ground and armoured shutters protected the radiator and which could be opened and closed by the passenger, using a lever by their right foot.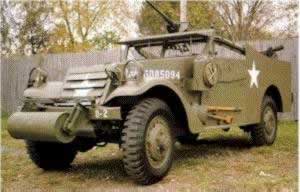 The windshield is made of shatter proof glass and there as also a plate of 0.5" armour that could be swung down into place to cover it which had slots for vision. The front bumper was made from heavy sheet metal and the bonnet hood could be opened on each side. The battery was on the right side and had an armoured cover, to protect it. On the outside such things as axes, shovels, and picks could be stowed and there was storage over each the rear that carried ammunition, tools, and spare parts. The driving compartment doors had hinged upper halves that folded down with vision slots that had covers, while the rear compartment had solid armour plate around it with no door..
It was armed with two Machine Guns that were on 'skate rail' around interior body, so they could be moved to any position and could be removed and placed on tripod mounts. There were six bucket seats behind the driver and a radio set with the antenna base in the centre of the rear section. Unfortunately for him the fuel was under driver's seat. A few saw action with the US Army in the Philippines in 1941-1942, but after that it was used for rear area road patrol work, convoy escort, and rarely to scout roads ahead of advancing units. It generally served in Regimental or Squadron HQ units in British Armoured Car and Tank Regiments.
The M3A1E1 was fitted with Buda diesel engine and the M3A1E2 had an armoured roof, while the M3A1E3 was fitted with a pedestal mount for 37 mm. An M3A1 Command Car version was built in 1943 with armoured screen, a .50 cal Machine Gun and more armour on the sides.
M3 White Scout Car, Specification;
| | |
| --- | --- |
| Armament: | 1 x 0.5" Browning and 1 x 0.3" Browning Machine Guns |
| Crew: | 2 (Commander and Driver), plus six passengers |
| Speed: | 60 mph (96 km/h) |
| Armour thickness: | 12mm (Max) |
| Weight: | 5.8 tonnes |
| Length: | 18 ft 6 in (5.63m) |
| Width: | 6 ft 8 in (2.1m) |
| Height: | 6 ft 1 in (2.0m) |
| Powerplant: | Hercules JXD 6-cylinder gasoline engine, producing 110 bhp @ 3000 rpm |
| Range: | 250 miles (403 Km) |
White M3 Half-Track, 75mm Half-Track and Universal Carrier: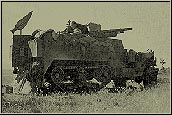 The Half-Tracks and Universal Carriers used by the Armoured Car units were principally the same as those that served with the infantry battalions. The 75mm Gun Half-Track (right) mounted in the passenger compartment of the basic vehicle to increase the firepower of the unit. If you wish to see more about the basic vehicle please go to the Half-Track details in the Infantry Equipment page, where you can also find details of the Universal carrier.
As with the BESA and Browning Machine Guns on the Tanks Page, this is included on this page as it was used extensively in the British Humber Scout Cars. It was a development of the Vickers-Berthier Class 'L' Land Service Light Machine Gun which was passed over for introduction into the British Army because of the success of the Bren Gun. There were two popular names for this gun, it was called the 'VGO' which was the official designation standing for 'Vickers Gas Operated'. It was also known as the Vickers 'K' which was the commercial designation made by Vickers themselves.
The Vickers 'K' gun was originally an aircraft observers' gun as it had a high rate of fire which made it suitable for shooting at high speed planes and getting as many bullets on target in the short space of time in which a plane would have been visible and in range. There were two sizes of drum magazines which fed the gun, a 60 round version and a later 100 round version. The latter is commonly described as a 96 or 97 round version as this was the number of rounds advised to be put into it in order not to weaken the spring too much. In approximately 1943, the Browning Machine Gun replaced the Vickers as the primary weapon in aircraft so they were effectively made redundant.
It was now that However, the ambitious young officer in the form of David Sterling formed the Special Air Service and he found that the Vickers 'K' gun was an ideal weapon for the types of missions which they would be undertaking. When available the 11th Hussars mounted twin Vickers K guns on the roofs for their Rolls-Royce Armoured cars back in 1940. The high rate of fire made it so the SAS troopers would be able to get as many bullets into the target without having to stay on the ground longer than necessary. The SAS mounted the guns on their jeeps usually in pairs with two at the front and two at the back and then a single piece was sometimes mounted on the drivers side wing so the driver could get in on a piece of the action as well
The only people to use the K gun in the ground role were the Royal Marine and Army Commandos. Each "Commando" had a Heavy Weapons Troop within it their were two sections one of which was a K-Gun Section. It was a short-lived affair for the K-Gun in the ground role as the high rate of fire and the weight of the gun and the magazines were so much that re-supply would have been a disastrous task. The pictures below show the gun with its flash reducer and with the drum magazine fitted
Vickers K Machine Gun, Data:
Model

Calibre (in/mm)

Ammunition

Weight (Unloaded) (kg/lb.)

Length (cm/in)

Barrel Length (mm/in)

Magazine

Rate of Fire

Muzzle Velocity (m/s /ft/s)

VGO

0.303/7.7

0.303 SSA Ball Mark VII

11.79/26

101/40

640/25.2

60 or 100* round drum

800 to 1200

731.5

/2400
* 100 round Drum magazine usually only loaded with 96 or 97 rounds to save spring wear
Divisional Equipment Page Tanks Page Artillery Page Infantry Page Other Equipment Page