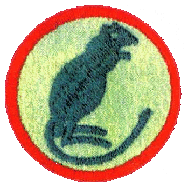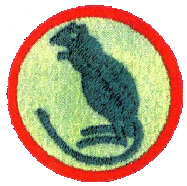 The

7th Armoured Brigade

Engagements - 194

4

Preparations for Italy, Breaking the Gothic and Hitler Lines and Drive up the Adriatic.

After Christmas 1943, 7th Armoured Brigade took part in exercises at Bir Beida near Jebel Ataqa, which included those named 'Fig Picker', 'Octopus', 'Kipper' and 'Tussle'. The latter being 10th Armoured Division against 6th South African Division. In February 1944, 'wet-shod' combined operations training started at Kabrit with the loading and unloading landing craft. The Brigade attended a lecture about operating in Italy, which was clearly the next campaign. On 18th March 1944, the Brigade took part in Exercise 'Formidable' which was a full-scale assault, based on a D+1 landing on a beach and live ammunition was used. Unfortunately 1 RHA fired their 105mm Priest Self-Propelled guns and some fell on to 2 RTR and 6 RTR Shermans without causing casualties.

In the spring of 1944 the brigade had for the second time to disarm another Greek detachment (this time a naval one) at Kabrit on the Suez Canal. But in April 1944, all the training was over, and the Brigade moved to Muhaggara on the coast of the Gulf of Suez to await embarkation. The Brigade, consisting of three Armoured Regiments, Artillery and sappers, sailed from Suez on the SS Reina Del Pacifico and SS Champollion, through the Suez Canal onto Taranto, on the heel of Italy. The Brigade landed on 4th May 1944 and then moved up by rail and road, via Bari, Foggia, Termoli to just south of Pescara in the Lanciano area. Here detachments from the three Armoured Regiments were allotted to support 4th and 10th Indian Divisions in V British Corps. The Brigade found that apart from occasional shelling the Adriatic front was quiet and peaceful and the Squadrons were harboured among olive groves and oak woodlands.

Breaking the Gothic and Hitler Lines

The Central Mediterranean Training Centre at Benevento (between Naples and Foggia) was valuable for Regimental and Squadron commanders to bring newcomers up to date on 'required' tactics for the Italian front. Here target spotting, working with and without infantry, and range practices were on the syllabus.

On 11th May the US 5th and British 8th Armies opened the battle for Rome and the beleaguered Allied beachhead forces in the Anzio pocket would break out. However, the German commander in Italy Field Marshal Kesselring had now fortified Italy with the 'Caesar', 'Hitler', 'Gothic' and 'Gustav' lines of defences. However, the Allied strength, of many nationalities was twenty- eight divisions after the withdrawal of three divisions for Overlord (the Invasion of Normandy) and seven for Anvil (the Invasion of Southern France a few weeks later), compared to the Germans' twenty-three and General Alexander wanted a local superiority at the point of attack of 3:1 in order to succeed, since the four 'lines' were well structured, well defended.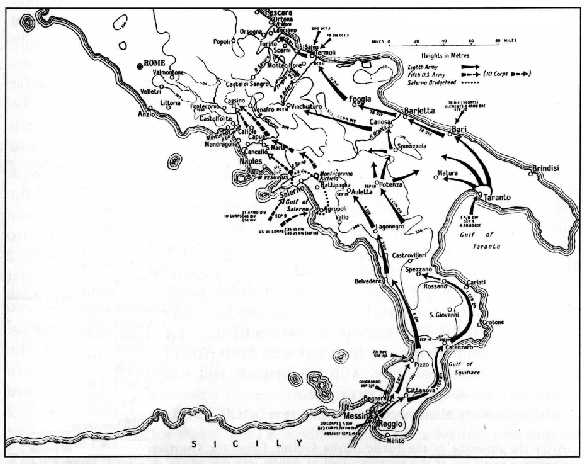 By 17th May, 6 RTR had relieved 40th RTR taking over their counter attack roles in support of 10th Indian Division, with RHQ and 'A' Squadron in Roatti, 'B' Squadron under command 20th Indian Infantry Brigade and 'C' Squadron under command 25th Indian Infantry Brigade. For the next three weeks, they support the Divison and its Brigades in a number of actions and entraining exercises, before entraining at San Vito and moving to Venafo, by 10th June 1944. It was still under the command 10th Indian Infantry Division, which was part of 10th Corps, 8th Army. Again they took part in training exercises with the infantry from 10th Indian Infantry Division and also from 8th Indian Infantry Division.
In the middle of June, 7th Hussars were placed under command of 2nd Polish Corps (Lieutenant-General Anders) and supporting 3rd Carpathian Division at the mouth of the River Tronto. Alas, not a single Hussar knew a word of Polish, but fortunately many Poles had a smattering of English and Colonel Bobinski, commanding the 6th Armoured Regiment and 6th Carpathian Infantry Battalion, spoke excellent English. Interpreters were provided at squadron level, below that basic hand gestures were used. 'A' and 'C' Squadrons supported Polish attacks towards the Gothic line until they rejoined 7th Armoured Brigade, on 2nd September. 'B' Squadron remained with 'Cavforce', commanded by Colonel Bobinski, in their advance through the Gothic line.
Meanwhile, 2 RTR were under command of 4th Indian Division at the eastern end of the Hitler Line and found themselves stuck in mountainous ground covered in undergrowth while the battle raged for Cassino at the western end. Limited success was achieved by all three squadrons supporting infantry attack at Lepione and Guardiagrele but no real progress was made until Cassino fell and the Germans fell back to their next line of defence north of Rome. The Germans on the east coast now fell back to conform and 'C' Squadron, 2 RTR, followed up without resistance as far as Chieti in what became nicknamed the 'Vino Hunt' because of the tremendous reception they received in every village along the way. In the meantime 'A' Squadron, 2 RTR, advanced to try and cut the Rome-Pescara road. The road had been demolished in a number of places but diversions were being created by Italian engineers and 'A' Squadron, 2 RTR, was able to advance to the Pescara River. They were now placed under command of the Utile Division with the task of protecting the Italian engineers. In the meantime the rest of the Regiment had concentrated at Castel Frenato and on 27th June 1944, it moved to join 6 RTR and 8 RTR at Venafro north of Naples. At the same time Lt- Col George Yule handed over command of 2 RTR to Lt-Col Lascelles.
On 1st July 1944, the Brigade, now concentrated at Venafro was visited by GOC 5 Corps, Lt-Gen Allfrey, and over the next two weeks there was a demonstration of bridge laying followed by practice at crossing obstacles. On 18th July the 2 RTR moved to Fiuggi via Cassino and Ferentino. On arrival there was a Brigade exercise followed by a demonstration of Duplex Drive Valentine tanks swimming on Lake Bracciano. At the time Churchill was thinking of an assault on southern France, no doubt using DD tanks which operated splendidly on the smooth water of the lake but none of Brigade fancied using them in rough water. On 30th July HM King George VI, toured the Allied forces in Italy and 4 Officers and 40 ORs formed guard of honour on part of the route taken by him.
Now the decision to switch the main thrust by 8th Army to the east coast and to do so without alerting the Germans meant that the move across the Appenines had to take place in darkness and all vehicles had to be leaguered up and camouflaged by first light. Wireless silence was strictly enforced and no movement was allowed in the open. For the tanks this involved three night moves starting on 14th August, along narrow, dusty and tortuous mountain roads and make matter worst the drivers were restricted to shaded front and rear lights.
By now the Brigade had been formally joined by 8 RTR under Lieutenant-Colonel G. Fitztalbot, and usually supported the 56th (London) Division. Commanded by Brigadier O. L Prior-Palmer, the Brigade of four Armoured Regiments were now to be organised as an all-arm pursuit force, debouching across the Foglia River into the plains north of the Marecchia and left flank protection for 1st Armoured Division. The attack on the Gothic Line, between Pesaro and Rimini on the Adriatic coast running south inland following the river banks of the Foglia, Conca and Marecchia, started on 25th August 1944. The Metauro River defences had first to be breached and 6 RTR under Lieutenant-Colonel Sturdee supported 4th Indian Division across the Foglia in the severe Croce battle, then captured Montecalvo on 31 August. There then followed a fierce fight for Tavoleto, which fell on 5th September.
On 18th September 8 RTR carried out two brilliant attacks in the Cerasolo area well ahead of the infantry, but close-range hand-held bazookas caused much damage. On one occasion a tank from 'C' Squadron 7th Hussars, was advancing on Casa di San Marco clearing up the enemy positions and for a time the tanks had all their own way, when suddenly a bazooka man fired three shots at tank, which all missed. But this the machine-gun jammed and with the 75mm gun not able to depress enough to engage, the tank commander shot the bazooka man with his Tommy-gun. Also on 18th September, 6 RTR moved to Castellari in support 2nd Bn. The Queens Own Cameron Highlanders who were under command 5th Brigade and under concentrated shelling by 150mm SPs, Nebelwerfers, mortar 75mm SPs on this village where Bn HQs of 2nd Camerons and 1/9th Gurkha Rifles of 4th Indian Division, were both situated. Numerous tanks received direct hits and one Stuart Recce tank at the Camerons HQ, which was brewed by a direct hit from a mortar. Enemy change fire positions frequently and had good observation throughout the day. 1/9th Gurkha Rifles had established a precarious bridgehead across river Marano and were pinned down by enemy fire and out of communication. 'A' Squadron, 6 RTR were asked to carry ammunition forward to 1/9th Gurkha Rifles, but a large hole blown in the road West of Castellari had been temporarily filled under fire, with some difficulty. No. 1 Troop managed to cross the river and found a track up to the road short of Pt. 343, where they delivered the ammunition to 1/9th Gurkha Rifles who had by that time almost exhausted their supplies. The troop then remained there in support all day. At 14:00 it was decided to try to get No. 2 Troop forward with more ammunition for the Infantry, but soon after starting the leading tank lost a track in area of road blown hole and blocked road. Tank came under heavy fire and the ammunition loaded on the back caught fire, which forces the crew to bale out and sought cover nearby, pinned down by MG, shelling and mortar fire. As the road was now blocked by the tank, the Royal Engineers recced a further route and made a tank track over the river. At first light on the 19th 'A' Squadron moved forward along road towards Grotte which the enemy had evacuated during the night, having withdrawn to area Borgo Maggiore. After the roads were recced and cleared of mines, the tanks went forward in support of 2nd Camerons, with No. 1 and No. 3 Troops moving to area Boldino clearing up and down positions and enemy strong points in houses on the sides and summit of the San Marino feature. Elsewhere the Honey (Stuart) Recce tank that was acting as a liaison tank with 2nd Camerons successfully engaged 4 spandau positions with its .50 Browning.
By the 19th September, 7th Hussars, under strength in tanks and tank crews due to casualties, had to merge 'A' and 'C' Squadrons. The result was five troops each of two Shermans and two Stuarts. However, a week later the Hussars handed in their tanks and 'marched' to Lake Bracciano to become an amphibious DD (Dual-Duplex) regiment.
In the autumn of 1944 the armies in Italy were faced with a particular problem which had never confronted them on such a scale before, the crossing of large rivers and extensive flooded areas. Training in DD (duplex-drive) tanks was a novel experience. When waterborne the drive was transferred to two propellers and the tracks again came into play when the tank reached a depth of about nine feet of water on the opposite bank. Buoyancy was obtained by the watertight structure of the hull and canvas screen which was erected before entering the water. Steering was the main difficulty and a good deal of practice was needed before a straight course could be kept. The tanks could only swim Lake Bracciano when the lake was calm. Great things were expected of the DD tank and many senior commanders faced with the problems of crossing the watery plains of the Po and the Adige came to see, and steer, for themselves. 'A' and 'B' Squadrons of 7th Hussars were equipped with DD Valentines, while 'C' Squadron retained their Shermans, but became expert in rafting with Class 40 rafts capable of carrying a Sherman tank.
At this time another amphibious craft to appear was an armoured troop carrier designed for operating in shallow water and mud. In north-west Europe it was called a 'Buffalo' and in Italy a 'Fantail'. It could carry both troops and guns and a 25-pounder could be mounted to fire from it both ashore and afloat. Also unarmoured load-carrying vehicles with a 2½ ton load called DUKWS (DUCKS) were greatly used, too.
While 7th Hussars moved out of the line to be trained on the DD tanks, the battle continued and 2 RTR took part in four days of fighting from 26th September 1944, driving the enemy north of the Rubicon. Elsewhere, 6 RTR fought with 4th Indian Division through Monte Colombo and Pian de Castello over a five-week period, clearing the theoretically neutral republic of San Marino. Two squadrons of 6 RTR fought with 56th Division in its advance by Mulazzano and Coriano to the Marecchia River and finally in unsuccessful attacks on the Longiano Ridge.
It rained on most days in September and October, the fields were boggy traps, the tracks had crumbled and the roads were usually pinpointed by enemy Observation Posts. On 1st October 1944, 6th RTR was still supporting 4th Indian Division and working with 2/11th Sikhs, 1st Bn. Royal Sussex Regiment and 2nd Camerons, Borghi and Reggiano. They advanced to Tribola and then to Monte Reggiano to link up with the attack made by 2nd Camerons and 1st R Sussex on Tribola and Reggiano which were taken without opposition. The remained in support until a regiment of Churchill tanks arrived on 2nd October. Then 6 RTR withdrew back across the River Rubicon, which was made more difficult by the level of the water. On 7th October 1944, 7th Armoured Brigade withdrew to Porto Recanati to be refitted having by the end of September cleared the last of the ridges and were now faced with the totally different terrain of the Po valley, which was flat open country crossed by numerous narrow but fast flowing rivers, each reinforced with flood banks. In the first week of October 2 RTR was placed under command of 43rd Gurkha Brigade who had the task of crossing the Fuimicina River and capturing Gatteo, but soon the rains descended making tank movement impossible.
On 19th November, 6 RTR left for Forlimpopoli been order to support 10th Indian Division, to work with 20th Indian Infantry Brigade. They the spent the rest of November supporting assaults by the Brigades various regiments arriving at La Podesta by 30th November 1944. On 1st December, 6 RTR then advanced to Migliano and Benedetta. For the next four days it supported the Indian and British troops in clearing many small villages, sometimes firing at houses to clear out the defenders, before moving to Villa Franca were it rejoined 7th Armoured Brigade, again. Just before Christmas 1944 it moved to Faenza. Also in December 1944, 8 RTR helped the Indians across the Senio, but as 1944 drew to a close 7th Armoured Brigade found itself, like the rest of the Allies, facing determined defence over hard terrain, in the cold and mud of an Italian winter.